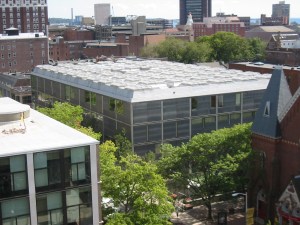 The American Associates of London's Royal Academy Trust are awarding the Yale Center for British Art, in New Haven, Conn., with their Benjamin West Award. The prize goes every year "to an individual or institution that has shown extraordinary commitment to Anglo-American friendship and generosity to the arts," according to the Yale Center.
Are you, perhaps, wondering who Benjamin West was, as we just were? Here's your answer: Sometimes referred to as "The American Raphael," he was an American-born painter who lived from 1738 to 1820 and helped found the Royal Academy of Arts. Here's a bit more on him from a review by Michael Kilian of a 1989 West show at the Baltimore Museum of Art:
Washington defeated Great Britain in battle. West (1738-1820), a self-taught painter who grew up a Quaker in rural Pennsylvania, left the colonies to conquer the mother country with his art and rose to become official Historical Painter for King George III, head of the Royal Academy and founder of what was to become London's National Gallery of Art.
The center's director, Amy Meyers, will accept the award at an American Associates' gala on Wednesday in New York at the Pierre Hotel.