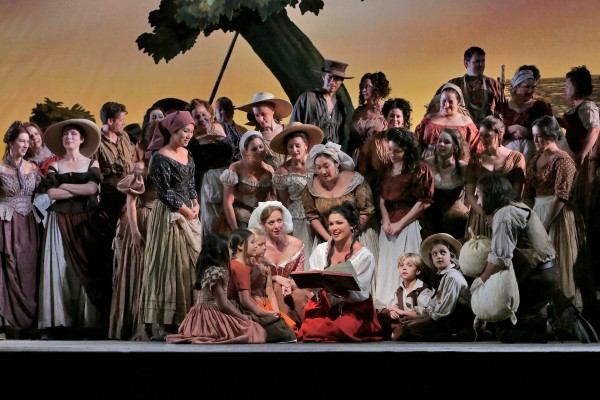 Bartlett Sher's new production of Donizetti's classic comedy L'Elisir d'Amore, which opened the Metropolitan Opera's season last week with a cast led by Anna Netrebko and Matthew Polenzani, is set in an idyllic Italian village in the first half of the 19th century.
It's an image we're all too familiar with—the small-town Italy of lusty girls, open-shirted men and sidewalk cafes, the Italy of travel posters and pasta sauce commercials. But odd, puzzling touches lurk if you care—or are bored enough by the onstage proceedings—to notice them.
Hazy blue forms loom in the background, off to one side of the stage. They look a bit like missile silos. This is 2012, after all, I thought as I pondered these: a period of distinctly postmodern opera direction. Perhaps Mr. Sher, who has directed three other operas at the Met in recent years, intended to subtly float a hint of the perils of nuclear proliferation, a dark underbelly to the opera's lightness.
Or maybe the forms were intended to be echoes of the fountain-like emerald city of Oz, a reminder that all of this—the plot, theater, life itself—is a fantasy.
This is all ridiculous, of course. The silos are most plausibly there because the show's set designer needed some innocuous shapes to fill out the immense verticality of the Met's stage. I was only letting my pseudo-intellectual flights of fancy soar free because Mr. Sher has done the same.
"Elisir is almost two operas at once," he says in an interview in the program. "It's a great entertainment and an opera with something else happening underneath it. And that's the Risorgimento, the development of Italian independence."
Somewhere in this dull, innocuous staging, in other words, beats the bloody heart of a revolutionary. Mr. Sher claims that at the opera's premiere in Milan in 1832, the audience would have viewed Adina, Nemorino and the villagers as the restive Italians and Belcore, the bumptious sergeant who comes to town, as the Austrians who still ruled Italy at the time.
"Nothing can ever be genuinely funny without pain, anxiety," Mr. Sher says in the program. "They're the fuel of comedy. The circumstances and stakes have to be extremely high."
That is indisputably true, and I have no problem, in theory, with a Risorgimento-flavored Elisir, or one shot through with strands of darkness. (A recent, excellent production in Munich gave the opera a surreal, post-apocalyptic, steampunk-ish setting.)
The trouble is not Mr. Sher's concept but the fact that so little of it finds its way onto the stage. The costumes may well be accurate to the period, but the production is generic—no pain or anxiety to speak of. With its painted flats and cutout trees, it looks as antiquated and creaky as the candy-colored 1991 version it replaces. Elisir is a sturdily, spectacularly entertaining work, but its tonal balance is delicate: both slapstick and subtle. Mr. Sher's production isn't consistently or satisfyingly either one.
And there are basic problems with the Risorgimento conceit. Mr. Sher intermittently has the baritone Mariusz Kwiecien play Belcore and his soldiers as bullies, with dollops of physical aggression. (Austria! Get it?) But if the sergeant is a symbol of hateful foreign oppression, then why does the town hand him Giannetta, one of its beloved peasant girls, as a going-away present? More to the point, if Belcore is so unpleasant from the get-go, then why is the smart, beautiful Adina drawn to him? It seems an awful lot of trouble for her to be on the verge of marrying such an off-putting prospect merely to prove something to the hapless Nemorino.
"I think Adina is a bit of a tomboy," Mr. Sher explains in that program interview. But plopping a top hat on Ms. Netrebko does not a tomboy make, nor does it elucidate the social distinctions—the small but telling social details—that make the opera's world so engaging and rich. It's just another idea that makes Mr. Sher sound as though he's done his homework.
We've been here before. In 2009, Mr. Sher tried to justify his murky Met production of Offenbach's The Tales of Hoffmann with a seemingly random matrix of references that ranged from the outsider anxiety of 19th-century Jews in France to Kafka and Fellini. But unless some bowler hats and umbrellas emblazoned with huge eyeballs qualified, there was no sign of any of those things in the actual production. Mr. Sher paid lip service to psychological nuance but, as in Elisir, there was not much of it on offer.
And in Rossini's Le Comte Ory last year, he had an opportunity to direct a work that, even more than Elisir, is both bubbly and disturbing, setting a gender-bending love farce atop a society exhausted from years of war. Yet Mr. Sher's production was crass and glib, ignorant of the high "circumstances and stakes" that he now insists are essential to comedy.
This Elisir works in those moments when it is so conventional that the opera itself shines through, or because of a series of entertaining performances and Maurizio Benini's conducting, which was more focused than much of his past work at the Met.
Ms. Netrebko sang with luster, and has the ability to levitate her big, ever-darkening voice for coloratura ornaments. She acted with characteristic gusto, adding in little bits—a jump from a table, a couple of twirls—that are meant to project enthusiasm.
Then there are mystifying moments: one wonders why, nearly at the end of a plot during which she has supposedly matured and deepened, she chose to convey a clownish caricature of sadness during the duet with Dulcamara. Like any great opera singer, though, she acted with her voice, a mixture of acute peppiness and floating loveliness.
Mr. Polenzani's muted, bashful Nemorino was far preferable to the irritating, self-regarding antics of Juan Diego Flórez, who played the role at the Met this spring. But while his singing was clean, responsible, and often very pretty, neither his sound nor his acting made you sit up and take notice. He was almost always correct, almost never exciting.
At least you could hear him clearly, which is more than can be said for the stylish but underpowered Mr. Kwiecien, who tended to push his voice to make it heard. The bass Ambrogio Maestri brought care to Dulcamara's fast-moving patter.