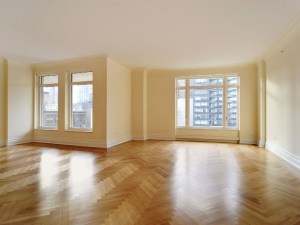 Will Hurricane Sandy have a negative impact on Manhattan's luxury real estate market? A brand new listing at 15 Central Park West doesn't think so. The listing for the two-bedroom, 2.5-bath condo went live today, asking what has now become de rigueur in that celebrated building: twice the price the current owner paid.
Yes, No. 16L, purchased the sponsor unit in 2008 by Kalawati Company LLC for $4.7 million is now asking $8.5 million.
"It has a beautiful open city view. It's just a beautiful apartment and apartments in this building rarely come on the market." said Sotheby's broker Hideko Horiguchi, who has the listing with her colleague Mika Sakamoto.
We asked if the owner had decided to list the apartment when the hurricane hit, but Ms. Horiguchi assured us that she and Ms. Sakamoto got the listing right before the storm, but couldn't put it into the system until now.
The Upper West Side looks more appealing than ever after its admirable weathering of Sandy. Unfortunately, refugees from Tribeca lofts won't be able to take up residence immediately in this condo: Ms. Horiguchi tells us that there's a tenant in place so it's either a long-term investment property or a short-term one for the buyer eager to move-in when the renters' lease is up.
Amazingly, the apartment is the cheapest unit in the building right now by $1.5 million. FaceMate founder Christina Bloom is asking $10 million for her two-bedroom on the third floor. And this unit boasts more than a view of the courtyard with its 16th-floor vantage point (unfortunately, not one of the park). It also ticks all the obligatory luxury boxes: generous walk-in and custom-built wall closet, an Italian marble bathroom with double vanity and soaking tub, plus a gourmet kitchen with Sub Zero and Miele.
kvelsey@observer.com