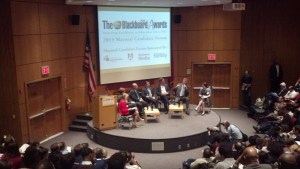 Only two candidates for mayor of New York City have officially announced their campaigns so far: 2009's Democratic nominee Bill Thompson and Manhattan Media C.E.O. Tom Allon, a newly-minted Republican contender. Nevertheless, earlier this evening, the three unannounced Democratic candidates joined Mr. Thompson and Mr. Allon under the conspicuous banner "2013 Mayoral Candidate Forum" to discuss the city's educational policies at a Fordham Law School auditorium.
As the moderators ticked through topic after topic, at least several candidates received what they wanted: opportunities to promote their pet policy proposals. Public Advocate Bill de Blasio touted his plan to increase taxes on the wealthy to pay for universal early education, Comptroller John Liu stressed the importance of increasing the number of guidance counselors and on down the list. A good chunk of the city's voters have children in local public schools–or are otherwise concerned with the topic–so all of the candidates understandably felt the need to burnish their credentials on the issue.
Some differences did emerge over the course of the evening. Council Speaker Christine Quinn, for example, took a slightly more nuanced approach to controversial issues like charter schools co-locations, and declined to absolutely commit herself to hiring an educator as chancellor should she be elected, a sticking point for some public school advocates still bitter over the temporary tenure of Chancellor Cathie Black. These deviations from activists' orthodoxy have their price, however, possibly evidenced by a small slew of protesters on the street declaring Ms. Quinn to be part of the "1%" and accusing her of corruption.
But Ms. Quinn, who previously differentiated herself from her Democratic counterparts by openly accepting money from an education reform group vilified by some advocates, simply urged the heated discussions take themselves down a notch.
"We also have to find a way to dial done the tone of the rhetoric and high volume as it relates to the discussion with the teacher's union," she said in her opening remarks. "That isn't serving anyone well, it's only separating us. We can't focus on a whole child if we're separating ourselves."