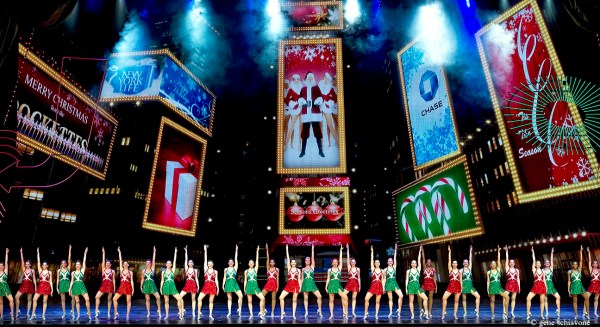 It would appear that there is an unwritten rule in show business which states that anything related to the festive season must be as suffocatingly cheesy as possible, and The Rockettes Christmas Spectacular at Radio City certainly delivers. In a show consisting of live camels onstage, 3-D interludes and costumes that made Joseph's Technicolor Dreamcoat look like a potato sack, the all singing, all dancing troupe undeniably put on a show. But that show felt a bit like being on an acid trip in Lapland.
Underneath all the layers of synthetic beading, there was some serious talent on show, and the high kicking Rockettes' collective prowess is impressive. An expertly choreographed section where the ladies took on the roles of toy soldiers helped to showcase some of that skill, and revisiting the group's wardrobe highlights of the past few decades was a nice touch. It is the show's 85th year, after all, and there is something to be said for their pulling power and ability to still create a buzz almost a century after their debut.
There is also, however, something to be said for not getting too carried away, and it seemed a little like director, choreographer and conceptualist Linda Haberman had forgotten this during the final scene. In a freakish concluding parade, where a donkey, the Rockettes, children, live sheep, little people (err elves) and two live camels lined the stage, it was hard to decide what to be most offended by. The show did bring a lot of (premature) Christmas cheer to New York, and that almost made us feel warm and fuzzy inside. But one last look at those poor withered camels onstage, and the fake blizzard ensuing outside the venue on our departure, and those near fuzzy feelings all but vanished into the faux snowy ether.