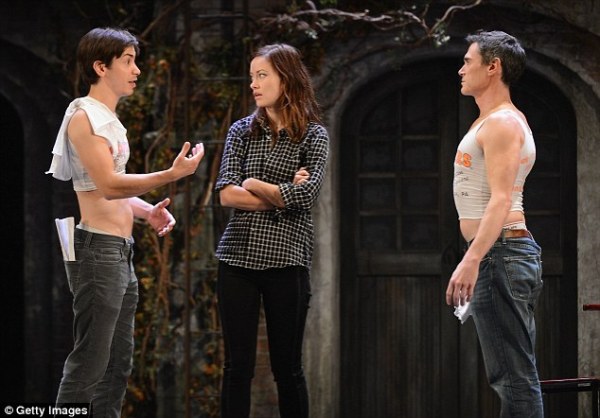 For actors, 24 hour plays are like the last day of class – the illusion of working remains, but everybody knows it's just a thinly veiled disguise for goofing off with your friends and wearing fake Mexican mustaches. And at Monday night's event at the American Airlines Theater, the pranks were in full swing and the faux facial hair put to good use as a host of stars took to the stage to support the Urban Arts program. "This is the most fun you can have with your clothes on that benefits children and is sponsored by Mont Blanc," joked the charity's Executive Director Philip Courtney as he stood under the spotlight, eagerly watched by his A-List peers.
Mischief and mishaps undeniably characterized the event, but a wave of hush fell over the audience as student poets Janessa Terry and Canice Munroe performed their work at the show's opening. Their words had audience members and celebrities alike enthralled, and highlighted the excellent forum provided by Urban Arts in enabling young creatives from underprivileged backgrounds to showcase their talent.
Indeed, there was much talent on display throughout the evening as six plays, written just a day earlier, had their first and last public airing. All the ubiquitous components of a 24 hour play were there – on-stage tumbles, corpsing and reams of questionable props. The clear favorite of the evening had to be Reservation for Rockwell: a play about Sam Rockwell, starring Sam Rockwell as Sam Rockwell. No points for innovation there.
But creativity came in a different form entirely, with Justin Long and Billy Crudup showing a lot of skin in tiny Hooters tank tops. Battling to see who could offer up the best Rockwell impression before the man himself arrived for dinner, their competition was comedy gold. Mr. Rockwell's entrance inspired some serious slo-mo shapes being thrown onstage, and as High School Musical darling and 24 hour play participant Vanessa Hudgens so neatly surmised to The Observer on the red carpet, "Seeing Sam Rockwell and Justin Long doing a dance-off kind of blew my mind."
Also on the red carpet at BB King Blues Club was Broadway veteran and self-proclaimed "mama hen" Tracie Thoms who agreed, "We all know the best play was that dang Sam Rockwell piece. I mean, how do you write that overnight? The tiny Hooters tops…I mean, it was a package deal, they sealed it, they win, they get the 24 hour Oscar. It's not even fair it was so good!" Thoms starred as lady loving ghetto princess Shaneetra in Impeach the Socialist, a somewhat strange play saved by the stage skills of both her and comedy queen Kristen Schaal. Other star performances included 30 Rock's Jack McBrayer as a man who fell in love with a horse, Seth Green as a surprisingly convincing Mexican and American Pie's Eddie Kaye Thomas as a zombie banker.
Jason Biggs, also of American Pie fame, starred alongside his childhood pal Kaye Thomas, but when it came to the zombie-off, there was only one real contender. "Eddie clearly made the better zombie," he conceded, but Mr. Biggs certainly made an impact in the charm stakes, winning over The Observer with a refreshingly laid back attitude.
"I've always wanted to be on stage with Eddie, so it was really cool for me to act with my buddy on stage tonight," he said, before revealing: "I've done two 24 hour plays before, and the way to do it is to go first. All night I was watching and enjoying everyone perform, but I was also fucking nervous!"
Stage fright had also plagued Precious star Gabourey Sidibe, who enthused, "I loved tonight, I had so much fun! But I always get really scared and I was like 'I can't do it this year.' I always regret thinking that and want to punch myself in the face about it afterwards because I have so much fun doing it."
Thankfully, there was no need for self-flagellation, apart from perhaps an enthusiastic pat on the back. As the afterparty – also attended by Macaulay Culkin, who shunned the spotlight in favor of a dark corner at Amber Heard's table – continued late into the evening, the actors hit the dance floor to let off some steam. Ms. Heard had taken a somewhat epic tumble onstage during her performance, but recovered like a trooper, characterizing an evening whereby the calamities were a vital – and probably the best – part of the process.