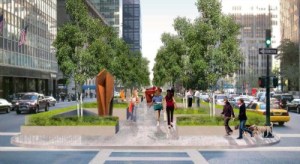 "Nobody on Park Avenue walks," Michael Shvo said last month, standing near the back of the Drill Hall inside the Park Avenue Armory.
The Fund for Park Avenue was hosting a private cocktail reception to honor donors to its annual holiday tree-lighting drive, a signature project that dates back to 1949.
Mr. Shvo, the 40-year-old retired real estate glitz guru, was among the few dozen guests at the reception. Wearing a white dress shirt with black top-stitching unbuttoned past his clavicle, he was talking about a recent art transaction with a fellow developer when The Observer interrupted them to ask about the future of Park Avenue. Maybe there was room on it for a pedestrian pathway down the middle, so we could all enjoy the malls?
"I stopped walking a decade ago," said Mr. Shvo nonchalantly, a statement of success rather than disability.
Nearby was Irwin Cohen, the man who turned the old Nabisco factory into the Chelsea Market. With the High Line nearby, he had seen the transformative power of an impressive infrastructure project firsthand—so how might he feel about reclaiming the Park Avenue median as an actual park?
"That's ludicrous," his wife Jill Cohen said. "What if you're coming here? Where would your driver stand the car?"
"I don't know that Park Avenue needs it," a friend piped up. "The sidewalks are plenty wide already."
"As long as they don't make it bike lanes," Mr. Cohen said.
Concerns over parking spaces and bikes aside, a clever group of planners and activists would like to transform the street into a world-class gathering place rather than a mere thoroughfare. In the middle of October, barely a week before the city was swept away by Sandy, two different designers on two different panels at the Municipal Art Society's third annual MAS Summit hit upon the same radical idea: to build a pedestrian promenade down the middle of Park Avenue.
In various ways, the architects proposed to widen the lush mall running along the middle of the road, allowing for a path that could be home to benches, sculptures, even—gasp—food stands. It would be New York's newest public space, and not one without precedent; the Bloomberg administration has reclaimed the streetscape to create plaza, piazzas and pocket parks everywhere from Times Square to Jackson Heights.
Just imagine … It could be the Upper East Side's very own High Line, a recreational and cultural destination to rival any in the city or the world, a place to relax, stroll, maybe buy a coffee or a Shake Shack burger from a kiosk. It could be the capstone of Mayor Bloomberg's unorthodox reappropriation of the city's streets, one that would take place right in the mayor's backyard—a fact that, ironically may be the very reason this daring idea may ultimately die without ever being realized.
Both proposals, it turns out, started with the same inspiration: a somewhat well-known (at least within wonky planning circles) black-and-white photograph of gentlemen and ladies in repose in the very middle of the Park Avenue Mall. The photo was taken in the 1920s, a decade into Park Avenue's life.
Park Avenue may seem like the last redoubt of grand old New York, but the street is younger than most. Built a century ago as a deck over the New York Central rail yards that once ran through Manhattan's heart, Park Avenue, for a brief time, was an idyllic spot. A park ran down the middle, dotted with benches, trees and a pathway for the common man to enjoy.
So it would remain until the end of the decade, when cars began to dominate the city's streets. Park Avenue was widened from two lanes to three, and what was left was a glorified, and at times grotty, median. "When we took over, it was basically a dog run," said Ronald Spencer, an attorney and chair of the Fund for Park Avenue, which has been maintaining the strip since the 1970s. "People would take dogs there to do their business. It was just filthy with trash and debris, the grass run down to dirt."
The fact that people used the median at all underscores a natural tendency to gravitate there, possibly because the green-space-starved Upper East Side consistently ranks near the bottom of the city's precincts in park acreage per capita. Even with Central Park nearby.
Vishaan Chakrabarti, director of Columbia's Center for Urban Real Estate and a principal at SHoP architects, believes a pathway could actually solve another of Park Avenue's problems: traffic.
Currently, one of the biggest bottlenecks on Park Avenue comes from drivers making left-hand turns, according to Mr. Chakrabarti. He would engineer a smoother flow of traffic, carving at a left-hand turning bay by extending the medians to take up half, but not all of the middle traffic lane. He would then take this extra space, push the vegetation to the sides, and run pathways and mini plazas down the middle. "I think you could have a really great public space, and you could also improve traffic flow," Mr. Chakrabarti said.
The trees and tulips so tenderly cared for by Mr. Spencer and his fellow funders would remain intact, and now people would be able to enjoy them up close, while the foliage would provide a subtle barrier from the cars whizzing by.
And the same would go for the sculpture, the Fund for Park Avenue's other big project. Not only would there be more room for art, but people could actually interact with it. It could even be argued that this is an act of historic preservation, of returning Park Avenue to its original state. And everybody knows how much uptown loves historic preservation.