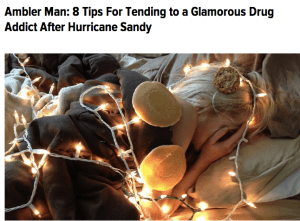 Natural disasters sure have a way of advancing a relationship, don't they? You go from drinks and late nights here and there to spending days together, unable to leave. It's like pushing the fast forward button on a relationship. You learn a lot about someone. Like that "Glamorous Drug Addict" you are hooking up with is kind of a handful. Who knew?
If you are Gawker EIC A.J. Daulerio and you spent Hurricane Sandy shacked up with Cat Marnell–or someone who sounds an awful lot like her (and looks like her too), you can use the opportunity to share all the things you learned with the world. 
Mr. Daulerio's post outlines eight simple rules for dating a "Glamorous Drug Addict."
"Be ready to explain to your Glamorous Drug Addict that the storm is really bad and that even though it looks like just a little rain, their life will be upended for a significant amount of time," wrote Mr. Daulerio. That is step one. Waiting out a storm can really take a toll on a relationship. And judging from this post, it was a stressful couple of days chez Daulerio. Ms. Marnell, who is referred to as "The Glamorous Drug Addict" throughout the post sounds like maybe not the best guest.
To judge from the post, the "Glamorous Drug Addict" left the "bedroom covered in debris like empty Coke Zero cans, Hawaiian punch bottles, stale bottles of poppers, Cheeto dust, donuts, and half-drank iced coffee, stray beauty supplies, empty packs of cigarettes, and random pills,"  slept for 12 hours on end, put her clothes outside to get that "weathered" look, refused to eat because getting fat during a Hurricane is lame and didn't seem to fully grasp the whole idea of the storm.
But worst of all? She didn't even say goodbye. Or thank you.
"The Glamorous Drug Addict will leave without warning, most likely while you're sleeping," Mr. Daulerio wrote. "There will be no thank you note. There will be no goodbye."
Not even a thank you note? Geez. At least Mr. Daulerio can blog about it.