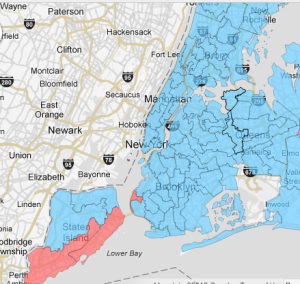 With last night's elections, a number of seats changed hands between the Democratic and Republican parties across New York State, and indeed the entire country. But in the five boroughs of New York City, it was a one-way street.
At the congressional level, for example, the city lost half its Republican representation with the exit of Queens' Bob Turner, who unsuccessfully ran for his party's nomination for the U.S. Senate. GOP Councilman Dan Halloran had his sights on the remnants of Mr. Turner's district in northeastern part of the borough, but the area's solidly Democratic tendencies allowed Assemblywoman Grace Meng to easily leap over Mr. Halloran and secure a new gig in Washington D.C.
While in the State Legislature, Republicans had specifically targeted Democratic Senator Joe Addabbo, reshaping his district to contain every single conservative-minded voter in eastern Queens. In addition, they deployed their top recruit in rising GOP star Eric Ulrich, who enjoyed a fundraising advantage throughout the race. Nevertheless, Mr. Addabbo held on, landing the coveted endorsement of Governor Andrew Cuomo as well as a big push from organized labor. Hurricane Sandy, which devastated many of the conservative areas drawn into Mr. Addabbo's district, didn't help Mr. Ulrich's electoral fortunes either, but it's not clear it was decisive in the outcome.
While in Brooklyn, Republicans had another loss when incumbent David Storobin couldn't muster up enough votes against Democratic former Councilman Simcha Felder. Mr. Felder, cozy with the Republican conference before the election, still might end up on the Republican team, but his victory demonstrated the increasingly Republican tendencies of the city's Orthodox Jewish population aren't enough when a socially conservative Democrat is on the ticket and backed by the community's political institutions. Senator Marty Golden, occupying a neighboring district, won with a comfortable margin last night and will now be the only Republican state legislator calling a borough other than Staten Island his home.
(At the City Council level, there are two Queens lawmakers outside of Staten Island, Mr. Ulrich and Mr. Halloran, mentioned above.)
In the State Assembly, it's a similar story but with districts gerrymandered to favor Democrats. Outside of a couple dozen blocks in Bay Ridge represented by Staten Island's Nicole Malliotakis, no part of Queens, Brooklyn, the Bronx or Manhattan has GOP representation in the state's lower chamber. Even in conservative areas, Republican candidates failed to make a dent. Democratic Assemblyman Steve Cymbrowitz, for example, represents the heart of a conservative Russian community in southeastern Brooklyn, but managed an easy win thanks to his primary challenger, Ben Akselrod, staying on the Independence Party's line and grabbing almost 20 percent of the vote in the general election.
In some ways, Staten Island isn't even as much of a Republican stronghold it once was. In the heavily conservative South Shore, Assemblyman-Elect Joe Borelli will hold onto a Republican seat and State Senator Andy Lanza won't be going anywhere anytime soon, but Democrats have a decent presence themselves in other local officials. Indeed, in a bit of a shocker, President Barack Obama apparently managed to edge out Mitt Romney on the island, a benchmark he couldn't cross with his stronger performance in the 2008 presidential race.
The Grand Old Party did have one marquee victory, however, in the re-election of Staten Island's Congressman Michael Grimm, who managed to grab a number of Mr. Obama's supporters as he faced off against Democrat Mark Murphy. Although a federal investigation and other controversies dogged the incumbent, the electorate wasn't willing to embrace the negative headlines without solid evidence of wrongdoing present. Mr. Grimm's biography as veteran and former F.B.I. agent, and his status as one of the most active freshman legislators in the House of Representatives, certainly didn't hurt either.
This all isn't to say the Republicans aren't poised to make gains in 2013's City Council races and another round of congressional and state races in 2014; there are undoubtedly a number of potential pickup opportunities. Just a simple note that, after yesterday, the GOP's political landscape tilted even further towards the city's smallest borough.