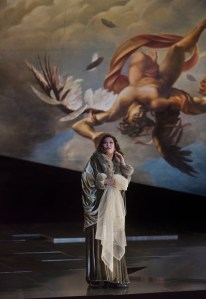 "They're straying into different dramatic areas," the English mezzo-soprano Felicity Palmer told me recently of today's Metropolitan Opera. "But I wonder if they're ready for David." I was speaking with Ms. Palmer for a profile of director David Alden, and her concern made perfect sense in the lead-up to his Met debut last week, directing a new production of Verdi's Un Ballo in Maschera. For a long time, he was the kind of director who simply didn't work at the Met.
Along with his twin brother, Christopher, and others of their generation, Mr. Alden, now 63, shook the world of opera in the 1980s. Beginning their careers at a time when the art form, particularly in America, sagged under the weight of massive, elaborate sets, the Aldens and their ilk pared down the visual component in visceral, politically charged productions of the classics. David in particular became known for ferociously violent, vivid shows.
His dreamy, visually striking version of Ballo for the English National Opera in London in 1989 was one of the most important productions of the past few decades, ushering in a new, more open-minded era in the traditionally staid English opera scene. He has remained a vital, busy artist, and Peter Gelb's Met, seeking to make up for lost time, decided that it was ready for him. Was it?
Yes, but sadly, who cares? Despite eliciting some boos at Mr. Alden's curtain call, the production, which premiered on Thursday in front of a drearily sedate crowd, was strangely tame. Unlike his pathbreaking English National Opera Ballo, Mr. Alden's Met version, conducted by Fabio Luisi, cannot be said to have ushered in much of anything. There were glimmers of inspiration and interest throughout, but nothing that caught fire during an uneasily chilly evening.
Censored in the mid 19th century, when it was new, for its inflammatory depiction of a regicide, Ballo is the story of a Swedish king in love with the wife of his closest friend. It is characteristically Verdian in the way it crashes together the personal and the political, but the mixture is stranger and more volatile than in most of the composer's works.
The opera combines elements of farce, melodrama and surreal, narcissistic fantasy, and Mr. Alden includes hints of all three. He seems to have imagined much of the piece as taking place within King Gustavo's mind—a perfectly good idea—but the action was never quite intense or weird enough to support that concept, and the mood never as clearly defined or compelling as the sharp, vivid lighting.
Mr. Alden has also suggested that the relationship between Gustavo and his friend, Renato, is the opera's true love story, rather than Gustavo's illicit passion for Renato's wife, Amelia. That's also a legitimate idea, but the lack of tension—or any connection at all, really—between Marcelo Álvarez's Gustavo and Dmitri Hvorostovsky's Renato made that a dead end.
Mr. Hvorostovsky's smoky and insinuating voice is theoretically well-suited to Mr. Alden's moody, ominous approach, which makes it especially unfortunate that he was such a bland, generic presence. Mr. Álvarez, and Sondra Radvanovsky as Amelia, were more successful: both in good, ardent voice and Mr. Álvarez as game to act as he's ever been at the Met. Yet the ensemble never gelled or felt connected to an overarching vision.
Even the visual element lacked Mr. Alden's characteristic flair. The walls come in and out, and the ceiling—a gigantic painting of Icarus falling from the sky—pivots up and down, but the effect is curiously weary. The production gives the general impression of a brainstorming session, a mess of ideas that haven't had the chance to settle.
It is difficult to precisely place the blame for a disappointing production, but it is reasonable to assume that the problem of this Ballo goes beyond just this show. If someone as experienced and responsible as David Alden can't produce something exciting or interesting, there is reason to question whether exciting or interesting is consistently possible at today's Met.
Some shows work, and some don't—that's the nature of the business—but at this point in Peter Gelb's tenure as general director, which began in 2006, one particular trend has become obvious. The successful productions of the Gelb regime have disproportionately been ones that have been created elsewhere and eventually transferred to the Met, including Anthony Minghella's Madama Butterfly, Julian Crouch and Phelim McDermott's Satyagraha and Patrice Chéreau's From the House of the Dead.
Willy Decker's spare, focused La Traviata, the closest correlate to Mr. Alden's take on Ballo,another Verdi classic, was made into a popular DVD after its debut at the Salzburg Festival in 2005, five years before landing in New York. All of these shows were created under conditions of far greater time and focus than those afforded by the Met's frenetic sprints of rehearsals. They could then be revived in New York and refitted for the new space and new casts: a demanding process, but one that is less labor- and time-intensive than creating something from scratch.
Especially when compared with those critical and popular hits, the Met's homegrown productions have been inoffensive at best and disastrous at worst, from Bartlett Sher's variously incoherent, twee efforts to Mary Zimmerman's condescending takes on bel canto gems to Robert Lepage's brainless Ring cycle to serviceable but generic productions of standards like Carmen and Il Trovatore. Add to this list Mr. Alden's thoughtful but unfocused and clearly harried Ballo.
The Met today is just not a place where real theater artists can make stimulating work. Part of the trouble is inertia: the difficulty of creating exciting productions in a place that largely ignored the theatrical element of opera for the better part of a century.
Another, related issue is a jam-packed schedule—a long, relentless season of multiple operas per week, nearly 30 in total—that forces the company to be more a factory, endlessly churning out product, than a theater. The company also depends for ticket sales on star singers who may understand that they have to be adept and "theatrical" on stage to survive in opera today but who are not, at the end of the day, comfortable working with directors who have truly provocative or difficult ideas.
These historical and logistical limitations will be tested in coming years as darlings of the international avant-garde like Dmitri Tcherniakov and, reportedly, Martin Kušej make their way to the company. They are used to many weeks of work with singing actors well versed in their experimental styles, and they are also used to working at companies with lower-volume seasons than the Met.
Mr. Gelb should be commended for understanding that good directors are integral to good opera. But generous gestation periods should not be viewed as dispensable luxuries. You can't just throw talented artists into the machine that is the Met and expect them to create something memorable; you have to give them the support that great art requires.
It is unlikely that that kind of support will be on offer without a drastic overhaul of the Met's season, specifically a substantial reduction in its length and the number of productions that comprise it. The only surefire way for the Met to change is if it does less but does it better. That may not be feasible, at least not right away, but it is necessary if an artist like David Alden is going to work at the company and make us glad he did.
editorial@observer.com