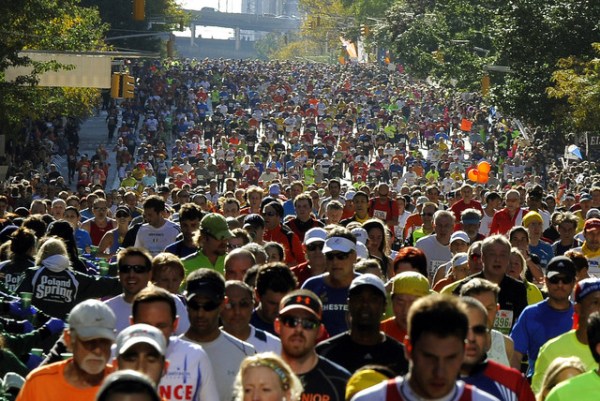 Despite his strong feelings this afternoon about keeping the race running, Mayor Bloomberg has just declared in a statement that he is cancelling Sunday's New York City Marathon. He says it has become a source of controversy and does not want that to ruin the event for the participants.
"The Marathon has been an integral part of New York City's life for 40 years and is an event tens of thousands of New Yorkers participate in and millions more watch.  While holding the race would not require diverting resources from the recovery effort, it is clear that it has become the source of controversy and division.  The marathon has always brought our city together and inspired us with stories of courage and determination.  We would not want a cloud to hang over the race or its participants, and so we have decided to cancel it. We cannot allow a controversy over an athletic event – even one as meaningful as this – to distract attention away from all the critically important work that is being done to recover from the storm and get our city back on track.  The New York Road Runners will have additional information in the days ahead for participants."
It is interesting that after insisting this will bring people together, the mayor has allowed divisiveness to tear the race apart. On the one hand, the race would show resilience, but on the other, there may just be too many New Yorkers in need right now who are deserving of the mayor's attentions far more than a few thousand runners from here and beyond. Imagine being a Staten Islander without a home watching as people run past, throwing down half-empty water cups , a luxury it will be months before you would have again. And so it goes, or doesn't.