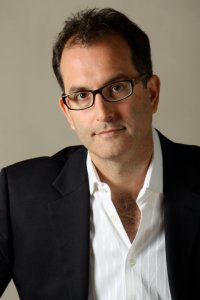 Andrew Goldman made his triumphant return to the pages of The New York Times Magazine on Sunday. Mr. Goldman, you may recall, was suspended from the magazine after he got into a Twitter kerfuffle with novelist Jennifer Weiner over a Q&A in the magazine's "Talk" column that raised Ms. Weiner's ire—and provoked Mr. Goldman's own sharp tongue. The suspension lasted a little more than a month.
For his first "Talk" column since returning, Mr. Goldman played it safe with Lemony Snicket creator Daniel Handler. But that wasn't the only piece Mr. Goldman had in Sunday's Magazine. He also wrote a six-page story about Oliver Stone, who is busy promoting Untold History, his new mini-series. In the piece, Mr. Goldman spends a lot of ink describing the director-cum-liberal historian's propensity for putting his loafers in his mouth.And to illustrate this tendency, Mr. Goldman seemingly randomly inserts himself into the story.
"The day we met, I mentioned that my family would be leaving Brooklyn for Connecticut, where we don't know a soul. 'But, really, what's the worst thing that could happen?' I said, offering the kind of throwaway phrase used to move from one topic to the next," Mr. Goldman wrote. But Mr. Stone didn't seem to understand that some questions are rhetorical.
"Well, Stone postulated, quite earnestly, you could end up going through an acrimonious divorce and then be forced to wage an expensive battle over custody of your children."
So, Mr. Goldman is moving to Connecticut, huh? It's a long way from Brooklyn. While we are not quite sure how this exactly shows Mr. Stone's social awkwardness, the director, to his credit, felt bad enough to (at least) pretend to like Connecticut when Mr. Goldman returned to the jab later in the piece. Although we are not totally clear on why this jab was worth returning to.
"A few weeks later, he looked genuinely pained when I needled him about the Connecticut divorce comment he made," Mr. Goldman recounted, pages later. "When he met my wife, he took her hands in his and told her, apologetically, 'I love Connecticut.'"
Sure he does. And JFK was killed by a lone gunman.