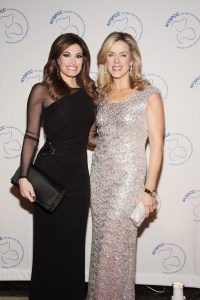 "It's the charity with longest, most difficult name to say" host Deborah Norville justified as she failed to get the name right at the first, second and third time of asking. The New York Society for the Prevention of Cruelty to Children hosted its annual gala in the Grand Ballroom of The Plaza on Tuesday testing all invitees' verbal dexterity and generosity. "But it also does the most difficult work." Good save Ms. Norville.
Founded in 1875, a time when there laws protecting animals but not children from cruelty, the NYSPCC is the oldest children's charity in the world. It is perhaps surprising that this was honorees John and Margo Catsimatidis first appearance at the gala as they are prolific benefactors of children's charities across New York. Sitting with them at a well positioned table from which they rarely left, we asked how they got involved.
"We have always been supporters of children's charities and when we saw the great work that this charity was doing and we wanted to be a part of it."
Why children's charities we asked?
"They are our future and need to be nurtured." Margo was, near verbatim, repeating the brief speech she made earlier in the evening.
Are you having fun tonight?
"Yes."
Anything in particular?
"The company."
Brilliant.
Mr. Catsimatidis continued to confirm himself as a potential GOP candidate for mayor."I'm setting up a exploratory committee in the coming weeks to decide on that." We queried if the hurricane had crystallized his intentions but he feels that his motives and the needs remain the same.
"He was young," we overhear Mrs. Catsimatidis say to her husband as we moved to the over-sized dance floor. "It's a baby face, but we are accepting donations."
Fox News' Kimberley Guilfoyle was attending and it was clear that this was a cause close to her heart. "I was prosecutor for the district attorney's office and my specialty was child abuse cases. Investigating, prosecuting but also helping to rehabilitate." She was delighted to be able to bring her own son Ronan. "I thought it would be good for him to see how a big group like this can come together to help children. We need to keep this group going. He also loves dancing." As we moved to leave we glimpsed tux wearing toddler Ronan dancing ferociously. The grin plastered to his face was a poignant image of what the charity and the night set out achieve.