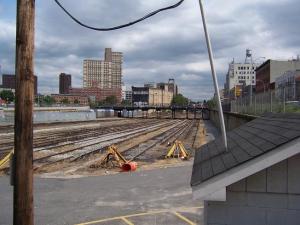 The battle over the Atlantic Yards has been a punishing experience even for the most dedicated community activist. It has been long and unrewarding and now, with the opening of the arena, many are finally calling it quits, The New York Times reports.
Losing the fight over eminent domain was the first straw and after years of sifting through documents, plans and financial filings, many saw Jay-Z's first concert there as the last straw. The arena is a fait accompli and while the huge housing towers that helped Forest City Ratner secure so much government funding have yet to materialize, nitpicking the plans for the next half-decade is not something a lot of the opponents can stomach.
Nor do they want to.
"I never realized how angry I was during those years," musician Scott M.X. Turner told The Times. "Now my life is not being angry all the time."
People neglected careers, friends and families to devote 20 or more hours to the battle against Barclays. Opposing the project became an all-consuming passion for many and one that they no longer want to devote themselves to.
Candance Carponter, the real estate lawyer behind Develop Don't Destroy Brooklyn, admitted to exhaustion, but said that she was proud for fighting for what she believed in, even if she hadn't won the fight.
Many who plan to, or have already thrown in the towel, have also moved on physically, taking up residence in new neighborhoods or states. Others, particularly those who must live with the new arena, vow to continue.
"The fight isn't over," graphic designer Jon Crow, who is involved with a nearby community garden, told The Times. "We've got a neighborhood to protect."
kvelsey@observer.com