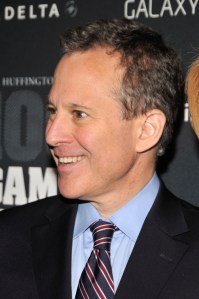 New York Attorney General Eric Schneiderman is keeping an eye on the assorted charities raising money for Hurricane Sandy relief efforts. In a statement released today, Mr. Schneiderman announced he sent a letter to 75 Sandy-focused nonprofits requesting information on their fundraising and spending activities, which he intends to post online.
"Our office commends all of the charities, and their volunteers and donors, who have come to the assistance of New Yorkers after Hurricane Sandy," Mr. Schneiderman said in the press release. "In light of the importance of the recovery efforts, and the enormous amount of money raised in such a short period of time, it is critical that donors know where their money is going, and that funds are spent responsibly. In the name of transparency and accountability, we must ensure that funds raised for Hurricane Sandy relief are used for that purpose."
Mr. Schneidman previously busted a local breast cancer charity for allegedly pocketing most of their contributions with internal overhead costs. In order to ward off similar incidences in the name of another noble cause, he requested the following information from the Sandy-related nonprofits:
-The amount raised and spent to date for Hurricane Sandy relief;
-Whether donations will be used solely for Hurricane Sandy relief;
-The services provided to date to those affected by Hurricane Sandy;
-Whether the charity is providing funding to other organizations, or making direct financial grants to individuals, families or businesses;
-What the charity plans to do with any surplus funds.
And, noting they planned to request information from additional organizations, Mr. Schneiderman's office provided a list of charities contacted so far:
AARP Foundation
Acupuncturists Without Borders
Afya Foundation
All Hands Volunteers
American Humane Association
American Red Cross
American Society for the Prevention of Cruelty to Animals
AmeriCares Foundation, Inc.
Best Friends Animal Society
B'nai B'rith International
Breezy Point Hurricane Sandy Relief
Brooklyn Recovery Fund
Brother's Brother Foundation
Catholic Charities of the Archdiocese of New York
Catholic Charities Diocese of Brooklyn and Queens, Inc.
Center for Disaster Philanthropy
Children's Hunger Fund
Church World Service
City Harvest
Citymeals-on-Wheels
Convoy of Hope
Direct Relief International
Disaster Chaplaincy Services
Emergency Children's Help Organization
Empire State Relief Fund
Episcopal Relief & Development
Feed the Children
Food Bank for New York City
Gleaning For The World
Goodwill Industries of Greater New York and Northern New Jersey, Inc.
Graybeards
Habitat for Humanity International
Heart to Heart International
Hispanic Federation
Hope for the Warriors
Hurricane Sandy Relief Foundation
ICNA Relief
International Rescue Committee
Islamic Relief USA
Jewish Disaster Response Corps
Kids in Distressed Situations, Inc.
Liberty Street Relief Fund
MAP International
Matthew 25 Ministries
Modest Needs Foundation
Movement for Peace
National Firefighters Endowment
National Urban League
New York Cares
New York Communities for Change
Occupy Sandy
Operation Blessing International
Rebuilding Together
Rebuilding Together NYC
Red Hook Initiative
Robert R. McCormick Foundation
Robin Hood Foundation
Samaritan's Purse
Save the Children Federation Inc.
ShelterBox USA
Staten Island Strong
Stephen Siller Tunnel To Towers Foundation
Team Rubicon
The Humane Society of the United States
The Jewish Federations of North America, Inc.
The Mayor's Fund to Advance New York City
The New York City Coalition Against Hunger
The Salvation Army
UJA-Federation of New York
United Methodist Committee on Relief
United Way of Long Island
United Way of New York City
Waves For Water
We Care NYC
World Vision International