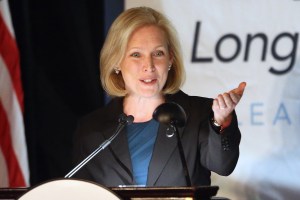 No surprises here. President Barack Obama and Senator Kirsten Gillibrand both emerged victorious in New York State tonight.
Although countless voters remain in line at New York City precincts, which are required to remain open for all voters who showed up before 9 p.m., the Empire State's overall preference for Democrats was still enough to overwhelm any ambiguity as to the ultimate victor.
Ms. Gillibrand, who dominated in pre-election polling and had a mammoth campaign war chest, was not expected to face a serious threat today. Her opponent, Republican attorney Wendy Long, waged an aggressive and energetic campaign, but, thanks to a lack in resources, never quite caught on. This victory will be Ms. Gillibrand's second in four years. In 2010, she won the 2-year remainder of then-Senator Hillary Clinton's term after the incumbent left to join the Obama administration.
Attention now will be paid to the downballot races, especially for the U.S. House where the redistricting process left an unusually large swath of competitive campaigns. In the New York City metropolitan area, these include the races of Long Island's Democratic incumbent, Tim Bishop, and GOP Representatives Michael Grimm and Nan Hayworth in Staten Island and the Hudson Valley respectively. Control of the New York State Senate could also potentially be in the air if Democratic candidates overperform expectations in a number of key races as well.
Nationwide, the Democratic Party has done well in U.S. Senate races so far. Connecticut's Chris Murphy, Massachusetts' Elizabeth Warren, Pennsylvania's Bob Casey and Florida's Bill Nelson have all been projected to win. In Indiana, Democrat Joe Donelly is currently leading Richard Mourdock, and, in Maine, Independent Angus King, who's expected to side with the Democrats, is the projected winner.