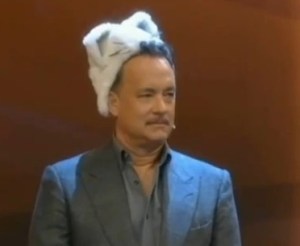 – We know: it's getting dark earlier, the elections are tomorrow and we're still suffering the fallout from last week's hurricane. (Um, not to mention the nor'easter headed our way on Wednesday. FUN!) On the other hand, here are some videos of Tom Hanks being really confused on a German sketch show called Wetten Daas!

– The owner of New York's Beach Bum Tanning Salon, where Amanda Bynes may or may not have stripped down in the lobby and run around like a crazy person: "Employee testimony and security footage have confirmed that Ms. Bynes was not acting inappropriately. She is a long-time client and we stand by her account." So wrote CEO James Oliver claimed in an official press release. But how much do we trust the word of a Beach Bum?
– Brad Pitt has done enough with this humanitarian stuff. From now on, it's all perfume ads and designing 24-karat-gold tables.
– Courtney Love, perpetual buzzkill, won't let a Nirvana musical happen. Hey, for once we agree with her.