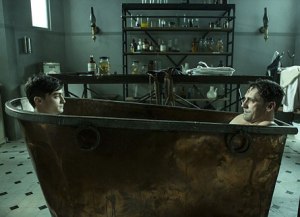 – In her continuing efforts to upstage that total biatch Lindsay Lohan, Amanda Bynes decided to strip down in a tanning salon lobby in New York and run around screaming "I'm a retired multi-millionaire!!" Said an eyewitness, "There was definitely something wrong with her." What do you think it was?

– Gwyneth Paltrow is totally over her Brooklyn love. Now she's on to only talking about really important stuff in GOOP … like wrapping paper that costs $52.
– James Franco wants to fine people who don't vote. Possibly to raise money for his next performance art project.
– Jerry Seinfeld alone could probably finance the reconstruction of NYC with his Seinfeld residuals.
– You know, we had heard rumblings on IMDB about a Jon Hamm/Daniel Radcliffe Sky Arts 1 HD series, A Young Doctor's Notebook, in which they play the older and younger versions, respectively, of a Russian Ph.D. But this is the first time we've seen pictures of them in a bathtub together, which is a very Terrence Malick way to shoot your bloody show.