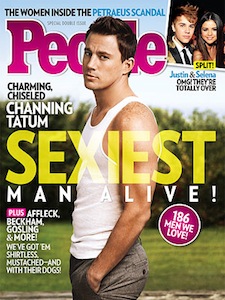 – Wait, does giving Channing Tatum People's "Sexiest Man Alive" superlative mean that it's not going to Ryan Gosling? Again? If not, why not, and why Channing Tatum? And are we talking about Magic Mike Tatum or Dear John Tatum or 21 Jump Street Tatum, because that guy is just so versatile we really don't know?

– Matt Lauer, another "sexy man who is still alive" might be in the process of getting booted from Today, because no one likes how the Anne Curry thing went down and it is Mr. Lauer's fault, allegedly. Also his "brand is damaged," which is the funniest thing to say about someone, when you think about it. It sounds like it should be off of a deleted scene on the Clueless DVD.
– Thank God, dummy: 30 Rock won't be ending without one last appearance from "Beeper King" Dennis Duffy, aka Liz's first boyfriend, aka Cassidy from L&O: SVU, aka the bad things that AllState Insurance is trying to warn you about, aka Dean Winters (his actual name).
– Jason Biggs and his wife really need to have their Twitter accounts suspended during election cycles.
– Not only will Anchorman 2 be a musical, but it was originally designed to be a Broadway musical. Were the returns for the Elf musical so bad that Adam McKay just decided to scrap the idea and make a feature film instead?