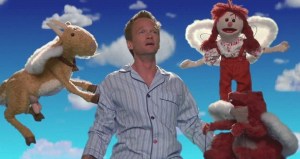 – Just in case you thought those  ForeRunner Chronicles that Two and a Half Men star Angus T. Jones participated in were part of a normal religious vlog, here's the pastor who started the Chronicles, Christopher Hudson, talking about Jay-Z being a Freemason with demonic links, Obama's ties to Hitler, and how NYC's current gas crisis will lead to us eating each other, Walking Dead-style.

(To be fair, a lot of people believe Jay-Z is part of a secret society and has a close relationship to Satan, which is why he raps in "Murder to Excellence" with Kanye, "The new black elite, they say my black card bear the mark of the beast.")
– The best present for the holidays? Ben Savage tweeting last night that he and Danielle Fishel are all in for a Boy Meets World sequel for Disney, titled Girl Meets World.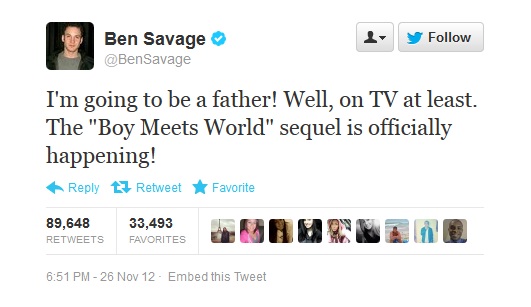 Topangaaaaa!
– Brad Pitt is not ashamed of that ridiculous Chanel No. 5 ad. In fact, he kind of liked how weird it was.
– Nicki Minaj is stirring up more trouble on American Idol, except this time she's gone after Steven Tyler, calling the Aerosmith singer racist for saying that she would have eliminated Bob Dylan from the show had he been auditioning. Um, to be fair? Dylan never would have made it past the first round, no matter who was judging. Though we're not sure if that makes Tyler racist.
-Neil Patrick Harris has a new web show, "Neil's Puppet Dreams." No, for real. And it is amazing.