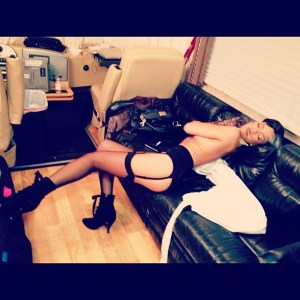 – The best part of yesterday's Victoria Secret runway show was definitely the part where Rihanna took off her clothes and Instagrammed a picture of herself. How are these two things related? God knows.

– Here is that Lana Del Rey music video you've been asking for. Or as we like to call it, "the Lana Del Rey video that is not 'Video Games' or 10 minutes long." It's called "BEL AIR," and it is very Kate Bush, in the sense that they both love fog machines.
http://youtu.be/yq3yT8CkPzY
– We are buying a copy of Save the Assistants for Lindsay Lohan. "Gavin" refused to take the fall for the human train wreck when she told the cops that he was the one who crashed her Porsche into the back of a trailer. Now she's charged with lying to the po-po, and Gavin will have to sleep with one eye open for a while.
– Man Men's Pete Campbell (aka Vincent Kartheiser) isn't just a hobo living in a cardboard box. He's a hobo living in a cardboard box that gets punched in the face. Like, a lot.
– A Ukrainian singer/possible mail-order bride Aza claims that Carly Rae Jepsen's "Call Me Maybe" is a total rip-off of her song "Hunky Santa." Says the pop star(?): "I'm shocked and surprised that these people wanted to sample my lyrics on their song." I mean, she's right. They are totally identical.