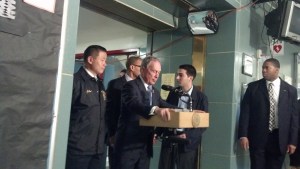 In order to keep the city's fiscal house in order in the aftermath of Hurricane Sandy, Mayor Michael Bloomberg unveiled new cuts and streams of revenue over the weekend. Among the changes, school-lunch fees will increase from $1.50 to $2.50, while city libraries will see their funding axed to the tune of $8.3 million. Asked about it during a press conference today in the hard-hit Howard Beach neighborhood in Queens, Mr. Bloomberg defended the budgetary measures.
"It's easy to say, 'I don't like A, B and C,'"  he argued. "Well, what things would they like us to raise taxes [on]? The issue here is that we're trying to find some balance so that everybody shares a little bit in the pain, everybody contributes; we're all in this together. And do it such that people can afford [it]. It's not asking a lot to go, in this day in age, from one price to another if it's a relatively small price. But if a large number of people do it, it contributes significant revenues."
Mr. Bloomberg emphasized that, for reasons outside of his control, his hand was forced. The mayor specifically called out the Public Advocate Bill de Blasio-backed lawsuit against the State Legislature's livery cab bill, which ended up blocking the planned sale of additional taxi medallions.
"We have a budget that is going to be strained by the recovery," he explained. "We have a budget that is questionable because of some people suing us for their own selfish reasons to stop the taxi medallions. We have great uncertainties out there and we will balance our budget like we've done every single year."