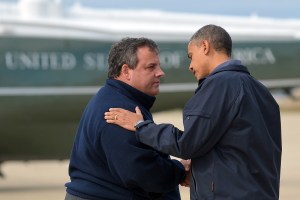 During his daily press conference discussing the city's latest measures to recover from Hurricane Sandy, Mayor Michael Bloomberg addressed a report that he told President Barack Obama to not visit New York in the immediate aftermath of the storm. Mr. Obama, of course, made a well-publicized tour of the damage in New Jersey with Republican Governor Chris Christie instead.
"That's not true," Mr. Bloomberg snapped, not waiting for a reporter's question on the topic to finish. "I didn't ask him to not to come. We had a conversation of where it would be most effective. I talked to him today, as a matter of fact; he called me. He's coming to the city next week. We're honored to have him."
President Obama will be in town Thursday to survey the damage caused by the hurricane.
Mr. Bloomberg went on to explain the circumstances of the initial hypothetical trip simply made things too difficult for a presidential visit.
"When the first visit was, the president and I agreed it just wasn't the time to come to New York City because so much stuff was going on here, and it was so concentrated," he said. "We have a long way to go and we've made significant progress since then and we're very happy to have him. I don't know why that got reported that way, I had conversations with him and his staff. He can't go every place, every time. We're thrilled to have him come."