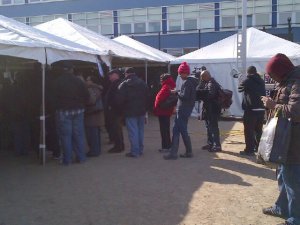 As New Yorkers crowd into long lines, waiting for the right to vote at polling sites that may or may not have functional machines to tally the votes, Mayor Michael Bloomberg held another press conference to update the city on its recovery in the aftermath of Hurricane Sandy. While addressing the storm, Mr. Bloomberg, who has criticized the local Board of Elections in the past, did not hold back in his frustration with the issues at the polls today.
"People all around the world would like to have our freedoms and to keep them and extend them, we have to exercise them. I know many people, including myself, are encountering lines at the polls. Be patient, it's worth the wait," he said. "From the reports that we've gotten, the Board of Elections has run into problems, including late delivery of machines to some sites and late openings. Also, this morning, we learned the Board failed to secure enough fuel for generators at least one poll site; we became aware of it and the Department of Education did deliver fuel to that polling site….If these were the only problems the Board of Elections encountered today, we should consider ourselves very lucky. But, unfortunately, based on its history, that is not likely to be the case."
Even when Mr. Bloomberg went to vote at his polling place on the Upper East Side, he encountered a 40 minute line and workers there were unable to find his name in the book of registered voters and improperly had him find his name himself.
"I can tell you that where I voted this morning, the poll workers could not have been nicer, they really were trying," Mr. Bloomberg explained. "But the system that we now have in place, instead of you going to one place to get your card and then into a booth, you go to one place, you get a folder, a card and a ballot. Then you have to go to another place to fill it out while people can look over your shoulder. Then you've got to go to another place to stick the piece of paper into a scanning machine. All the crowds, it's hard to get around, nobody knows where anything is. It's about as inefficient of a system–everybody I talked to kept saying, 'What is this?' …They were just stunned. I kept hearing, 'What's this? A third-world county?"
The mayor concluded his discussion of the Election Day issues by criticizing the decision to switch out the old voting devices, which used levers, with the new automated ballot-scanning machines that many voters encountered for the first time today.
"We did have machines, incidentally, that worked. They worked fine. You could go in, close the curtain behind you, pull the levers," he reminded everyone. "I was told that they couldn't get parts to repair them. You call a company and a company will make the parts you need. That would have been simple and we wouldn't have to spend any more money. And there's a problem of how the results are reported. In the olden days, you would look at the numbers, have two or three people look at the number, make sure we wrote it down accurately, and called it in. Now, unfortunately, there are papers that come out and they have to cut them with scissors and paste them and staple them together; they can get lost, they can get mixed up. It's just a nightmare. It's really hard to understand, in this day and age, how you can do that."