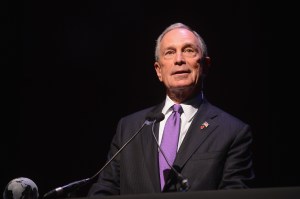 Late in this year's election cycle, Mayor Michael Bloomberg suddenly announced the creation of a "super PAC," Independence USA, through which the billionaire mayor could funnel unlimited sums of cash to candidates who support his political agenda of gun control, gay marriage and education reform. Looking at the federal races Mr. Bloomberg aimed to influence through the new political action committee, however, a majority of his candidates narrowly lost last night.
For example, in western Connecticut, moderate Republican Andrew Roraback suffered a 48%-to-52% loss to Democrat Elizabeth Esty, despite Mr. Bloomberg spending more than a million dollars on Mr. Roraback's behalf. Similarly, in another suburban seat, Mr. Bloomberg dropped roughly a million dollars boosting GOP Rep. Bob Dold in Illinois, only to see him lose by less than 1%. And, down in Florida, he spent more than $2 million in an attempt to vanquish Republican Congressman Dan Webster, but the incumbent still beat back a strong challenge from Val Demings, 52% to 48%.
In New York State, Mr. Bloomberg only directly involved himself in one race, the rematch between former Rep. Dan Maffei and the Republican who defeated him in 2010, Ann Marie Buerkle. The hotly-contested campaign also featured Independence USA's smallest federal expenditure, at less than $500,000, according to the latest campaign finance reports. Nevertheless, Mr. Maffei did pull out a 48%-to-44% victory, with a Green Party candidate soaking up the remaining tally.
But, because millions of dollars from other outside groups were also involved in Mr. Maffei's campaign, Mayor Bloomberg can probably only point to one congressional race where his spending was clearly decisive. Thanks to the state's new nonpartisan primary system, the top two candidates in California's 35th Congressional District were both Democrats, Rep. Joe Baca and his challenger, State Senator Gloria Negrete-McLeod. By pouring in more than $3 million, Mr. Bloomberg successfully hammered Mr. Baca over environmental and gun issues, leaving the incumbent with a likely 7-point loss in a race he might have otherwise coasted in.
Before the election, Mr. Bloomberg described his electoral efforts this cycle as an attempt "to get our feet wait," with most of his spending to come after he's term-limited out of Gracie Mansion in 2014.
Update (2:40 p.m.): Stefan Friedman, a spokesman for Mr. Bloomberg's PAC, pointed out other elections Mr. Bloomberg has involved himself in, either through fundraising or other third-party efforts, as well as one non-congressional race Independence USA entered for Pennsylvania's Attorney General.  That list can be found below.
"Whether it's getting guns out of the hands of criminals; allowing people to marry regardless of their sexual preference; or cleaning up the environment, a solid majority of Americans believe that government has to enact common-sense reform – and last night, they made clear that they don't want to wait any longer," Mr. Friedman said in a statement. "By exercising their democratic rights at the polls and voting for common-sense candidates and causes, the people took a giant step towards achieving reforms that will last a lifetime and benefit a great many."
WINS
NELSON (D)(FL)
KING (I)(ME)
KING (R)(NY)
MCCASKILL (D)(MO)
HEINRICH (D)(NM)
HATCH (R)(UT)
KAINE (D)(VA)
SCHIFF (D)(CA)
QUIGLEY (D)(IL)
MENG (D)(NY)
RANGEL (D)(NY)
MAFFEI (D)(NY)
CICILLINE (D)(RI)
NEGRETE MCLEOD (D)
KANE (D)(PA)
TESTER (D-MT)
MAINE MARRIAGE
MARYLAND MARRIAGE
MINNESOTA MARRIAGE
WASHINGTON MARRIAGE
LOSSES:
CARMONA (D)(AZ)
BROWN (R) (MA)
RORABACK (R)(CT)
DEMINGS (D)(FL)
DOLD (R)(IL)
VILSACK (D) (IA)