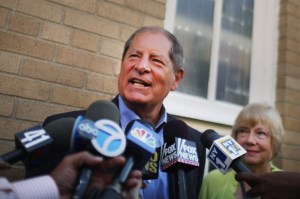 Last year, GOP Congressman Bob Turner drew national headlines when he notched an upset victory in the special election to replace Rep. Anthony Weiner, whose infaous lewd tweet led to the liberal firebrand's resignation. However, after giving up his seat for a failed Senate bid and watching his party lose the presidential election, it sounds like Mr. Turner might be giving up the political life.
"I'm very disappointed, but the country has changed, its demographics, its values, but I'm part of the old guard," Mr. Turner said at Councilman Eric Ulrich's election night event, according to Forest Hills Patch. "I think it's a really sad day."
Mr. Ulrich campaigned to represent Mr. Turner in the State Senate, but was unsuccessful against incumbent Joe Addabbo. Another big loss that night was attorney Wendy Long, who was electorally clobbered by Senator Kirsten Gillibrand. After his district was chopped up in redistricting, Mr. Turner himself had attempted to run against Ms. Gillibrand, but was unable to secure enough support in the Republican primary.
"They get their candidate and then leave her alone," Mr. Turner told Crain's Insider to explain Ms. Long's loss. "No money, no media credibility, no organization. And just, 'OK, kid, it's yours.'"
Of course, Mr. Turner has a lot more going on in his life than political races. During Hurricane Sandy, his home was among the 100 that burned down in Breezy Point. On Election Day, he said he wasn't sure what his next move would be, only what it wouldn't.
"I deliberately made no decision until today on what I'm going to do, and one of those things is going to be not to be in politics," Mr. Turner stated. "So that's part of the decision."
(h/t gestetnerupdates.com)