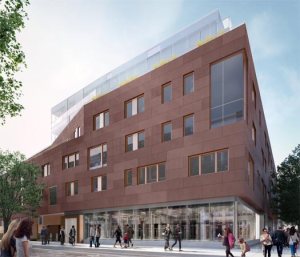 Remember the days when condo developers were sinking shiny new celebratory shovels into the ground every other day and the line of buyers eagerly waiting to sign their names to deeds seemed endless? Well, we may not be in in boom times quite yet, but we are definitely out of bust times and the buyers are once again lining up to sign deeds for as-yet unbuilt condos in hot neighborhoods, The New York Times reports.
One of the most popular condo projects mentioned by The Times include 200 East 79th Street, which opened for sales last month and now has 25 of its 39 units in contact. Also going like hot cakes are the town houses and condos at Sackett Union, a Carroll Gardens project that opened sales in late August. A month later, half of the units were in contract.
Other condo projects that can, at best, offer potential buyers a model unit and some floor plans, are seeing such strong sales, according to The Times, that they've been raising prices on the units every month. This has been happening for some time, of course, with super-luxe buildings—take One57's stellar sales record (if we can focus on that again after the crane near-catastrophe) and 18 Gramercy Park, which sold more than half its units in a few months, then promptly raised prices. But as of last December, the market for trophies and other super-prime properties has come roaring back at a rate that has yet to be duplicated by the luxury market's lower echelons.
But the rising rates of more run-of-the-mill condo sales (they're basically all luxury as well, of course, but well within the lower realms) suggests that all of the luxury real estate market may be on its way to rebounding.
The only problem with buying new (or unfinished) construction, of course, is that you're never sure exactly what you'll be getting. Beautiful glass curtain walls may leak, common charges may balloon and views may disappoint.
kvelsey@observer.com