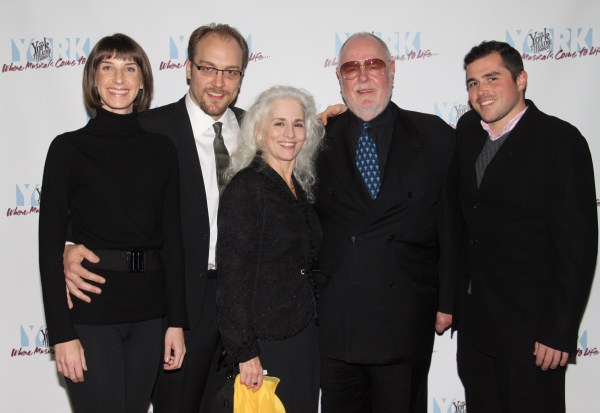 Move over Michael Kors – there's a new indoor-aviator-toting man in town. Last night, legendary Broadway musical director and conductor Paul Gemignani received the Lifetime Achievement in Musical Theater Award at the 21st annual Oscar Hammerstein Gala, where the cream of New York's stage crop came out to celebrate his remarkable oeuvre. Speaking to The Observer on the red carpet, Tony award winner Paul Gemignani revealed that he was "terrified" about the evening's entertainment – a veritable selection of Broadway treats hosted, and in part performed, by his son Alex.
"We don't go into this industry for awards," Paul Gemignani continued, "so when it happens, it feels like an out of body experience."
But one stage and screen stalwart who did have awards on the brain was Mario Cantone, who divulged, "At the moment, I'm working on my new one man show for Broadway, which will debut in fall 2013. Or summer, because guess what, I'll do it anytime! But it's a one man show so it won't get nominated for a Tony."
Mr. Cantone, who opened the tribute, said that everyone, including him was in for a surprise. "I have no idea what I'm going to do up there – I never prepare!" he said before taking the stage. The crooner began with a faux eulogy to the honoree, which he assured the crowd he had been put up to by Alex Gemignani and then, without missing a beat, he quickly changed his tune – literally – with a number from Assassins.
Following Mr. Cantone's performance, everyone from Brian Stokes Mitchell to Marin Mazzie poured out in honor of the great MD. There was singing, there were speeches – there was even a sumptuous meal put on for the guests. The dimmed lighting and slew of champagne did almost have us nodding off in the comfy seats, but Alex Gemignani's sweet compering skills managed to coax us out of our near slumber.
The junior Gemignani said he was hoping for high emotion from the evening's proceedings, and his aims were certainly achieved. Performances by himself, his father's wife Derin Altay and a step out of musical retirement from director Lonny Price had the honoree wiping the tears from under his shades. Indeed, the younger Gemignani's rendition of former Oscar Hammerstein Award recipient Cy Coleman's The Legacy was amongst the star performances of the night. Occasionally, the celebrations did feel a touch like an excuse for the honoree's son to run amok in a candy store of his favorite Broadway greats, but the sentiment made up for the mild self-indulgence in an evening where a man used to working below the stage rightfully earned his time in the spotlight.