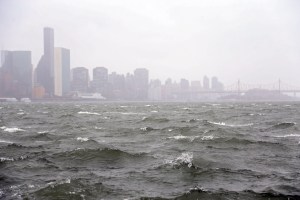 Councilman Mike Nelson represents a swath of southern Brooklyn that needed to be evacuated in advance of Hurricane Sandy, but he himself decided to wait out the storm in his government office a few blocks from the ocean. The endeavor didn't exactly work out as planned.
"I figured, you know what, I'm a councilmember, and I needed to be here to take phone calls," he told Sheepshead Bites, reflecting. "I thought I was doing the right thing, and I guess I was."
Mr. Nelson's office, like most of buildings in low-lying areas near the water, proceeded to flood. The councilman was trapped and without power until Shomrim, Jewish volunteer patrolmen who assist in emergencies, went in to rescue him.
Or, as Mr. Nelson's press release this morning phrased it:
"On the night of the storm, the Councilman recognized the importance of his personal presence in areas of his district facing danger in order to arrange last minute evacuations and to be available to meet with emergency personnel on the scene so that everything necessary could be done for the safety and well-being of his constituents. Unexpectedly the Councilman's office building located a few blocks from the bay suddenly lost power and started to flood. Nelson became trapped in his District Office at the time of the storm surge."
After recounting the harrowing tale to Sheepshead Bites, Mr. Nelson quipped, "I know we'll laugh about this soon. I know we will."