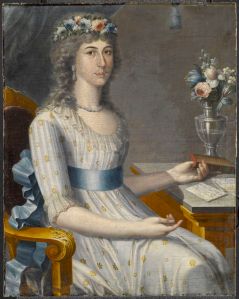 Last November, the Brooklyn Museum sold off from its collection a 1887 painting by Vasili Vasilievich Vereshchagin called Crucifixion by the Romans at Christie's London for £1.72 million ($2.67 million). Today it announced that it used some of those funds to acquire a portrait, Doña María de los Dolores Gutiérrez del Mazo y Pérez, that Puerto Rican painter José Campeche painted around 1796.
More from the museum:
"At age fifteen she sailed from Cadiz to San Juan with her mother and stepfather, a newly appointed sergeant major in the Puerto Rican division of the Spanish navy. At age twenty-one, she sat for Campeche, the island's first major painter, who portrayed her at home wearing a white muslin chemise dress–then the height of European fashion–and matching diamond earrings and necklace. In her left hand Doña María holds a copy of the popular Spanish play, Manuel Bellosartes's La fuerza del amor conyugal, and with her right she gestures toward two folded letters that identify her and her husband, who at the time was stationed in the Puerto Rican port city of Ponce."
Campeche's mother was a Spaniard from the Canary Islands, and his father was an African slave who bought his freedom by working as an artisan.
The work will go on view in the exhibition "Behind Closed Doors: Art in the Spanish American Home, 1492-1898," which opens at the museum on Sept. 20, 2013.