Noted political heavyweight (or parody Twitter feed) @Wise_Kaplan has decided to nominate BuzzFeed writer McKay Coppins for Mayor of New York.
Mr. Coppins, who covers the political beat, looks like he is down–or at least going with it. He changed his Twitter avatar to a campaign poster.
In the event of a Coppins capaign, we nominate @Wise_Kaplan to be his campaign manager. His tweets may not fly with more traditional mayoral hopefuls, but we think they strike the right note for a BuzzFeed candidate.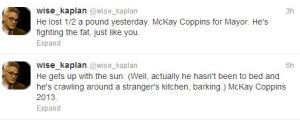 Even NBC's Luke Russert is playing along. Mr. Russert endorsed the writer's hypothetical candidacy on MSNBC's NOW earlier this morning.
Well, the 2013 mayoral field is starting to thin, so it may be a good time for a BuzzFeed writer to get in on the action. Although we don't think that this does much for the lack of Jewish candidates.