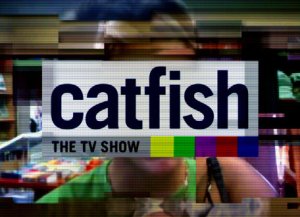 We're not sure how many of you out there actually saw Catfish, the pseudo/documentary directed by Ariel Schulman and Henry Joost of Paranormal Activity 3 and 4 fame. It was a very hyped film in 2010, especially after it received a Sundance buzz-bump that led to Brett Ratner's company Rogue Pictures acquiring the distribution rights and creating a marketing campaign in the style of The Blair Witch Project, which played up the film's ambiguous placement on the reality spectrum.
Ostensibly, the film began as a chronicle of "Rel's little brother Yaniv ('Nev'), and his relationship with Megan, a girl he met online." It soon devolves into one of those "too unbelievable to be true" (except they say it is) narratives about the perils of trusting the identity of anyone you meet on the internet.

For two years now, MTV has been sitting on the rights of a Catfish TV show starring Nev, which is only now seeing the light of day, premiering tonight. And for an adaptation of a film that hinged so much on the gray area that exists between people's online personas and who they were in "real" life, the TV version seems dedicated to erasing all that ambiguity and revealing–surveillance-style–the identities of these digital Romeos and Juliets. For example, Catfish is currently being used by NYC social startup DateMySchool.com, which vouches for the validity of its members.
From the press release announcing the tenuous link between MTV's Catfish and DateMySchool:
With its advanced privacy settings, and exclusivity to students and alumni, DateMySchool is safer than
any other online social platform worldwide.
DateMySchool is:
• Anonymous: Members may restrict schools, departments, age ranges and individuals from accessing
their profiles, and they cannot be searched on Google.
• Safe: Members are authenticated by their school e-mail addresses and other databases, like Uni-
LDAP and alumni directories, and are given extensive privacy control
• Exclusive: Only verified students and alumni may join.
DateMySchool is the first reversed social network:
• Users see people who they don't know but can trust.
• Users are seen by people who they want to contact and who want to be contacted by them.
• Users discover people online and then meet them offline.
DateMySchool has zero embarrassment:
• Members remain anonymous by restricting their profile-access to people they may see around
campus.
• As a reversed social network, users can be discreet about their reasons for registering.
• Whether for dating, relational or study purposes, DateMySchool is an online platform to discover new
people in a safe way.
But wait, so is the entire thesis of Catfish the show is to be hyper-vigilant and demand transparency of its subjects, when the film itself claimed that it shouldn't have to prove its authenticity/legitimacy? No, that's cool. It won't make for very interesting programming if it just turns into To Catfish a Predator, but we understand how the complexities of the original film might have been a little too much for the network to put on the schedule alongside Awkward.