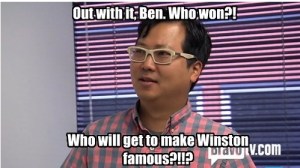 Ben Huh struck us as goofily affable when we met him at Bravo's Top Chef Kitchen restaurant three weeks ago. Sitting at a table with a Post reporter and a friend from Mashable, the CEO of the I Can Has Cheezburger network (which includes, among other properties, Know Your Meme, FailBlog and The Daily What) had a self-aware cockiness in his voice when he claimed he invented the phrase "internet culture." And though he was about to be rocketed into the world of Bravolebrities–the term Bravo applies to its various reality stars–he spent more time helping the table parse weird terminology than trying to sell himself.
We don't remember how the conversation got started, but at one point someone asked if you could call Furries (those people who dress in plush animal outfits at conventions, frequently with sex in mind) "anthropomorphic."
"No," Mr. Huh responded firmly. "That's when inanimate or inhuman objects take on human qualities." This, the star of Bravo's first attempt at a reality-sitcom told us, was "the opposite … humans that want to be animals."
So what do we call them?
"Animorphs?" the guy from Mashable suggested, referring to the teen book series popular in the late '90s.
"Animorphism," agreed Mr. Huh.

This was not the same character who greeted us last week at Rockefeller Center for lunch, a week after the premiere of  LOLWork. The "characters" on LOLWork are Mr. Huh's actual employees, who have  helped raise $32 million in funding with a knockout combination of cats and poor spelling. The show is a meta-subversion of The Office–an actual reality program self-consciously inspired by the latter's faux-documentary style. The first episode opens with employees sitting around at the company's Seattle headquarters, discussing whether or not it is appropriate to post a picture of a cat that appears to be dead.
"Okay, devil's advocate," begins Paul, a "Sideshow Bob" lookalike, according to Mr. Huh's gloss. "What if it's a dead cat, but we say it's sleeping? Is that okay?"
Will, Cheezburger's bearded content supervisor, fixes him with an icy blue stare. "I don't ever want to hear you say 'devil's advocate' ever again."
The moment is absurdly funny because it encapsulates how seriously these people take their jobs.
Mr. Huh was himself in serious form at Rock Center. Instead of regaling us with cat humor, he told The Observer how he had escaped Hurricane Sandy in order to make it to a conference on the West Coast. "I had only slept three hours in New York the night before, and suddenly all the airports were closing down. So I got a rental car and drove through New York, through New Jersey, through Pennsylvania to Pittsburgh. There is shit flying at the windows: panties, other people's windshields. I get to Pittsburgh, check into my hotel around 8, and find out that that flight has been canceled as well.
"Are you fucking kidding me?" he said, interrupting his own story by way of reliving the frustration. "So I book another rental car, and I drove to Columbus, Ohio. I get to Columbus at 5 a.m. I looked at a map, it turns out I had driven the entirety of the storm." Despite a delayed flight in Ohio because of snowfall, he made it in time to deliver a keynote address at the Seattle Interactive conference.
"Once I start a project, I just need to finish it," he said of his journey. "I refuse to get stuck."
That sort of insane gumption would make for a good Dwight Schrute-esque character on LOLWork, but Mr. Huh hangs back in the early episodes. He comes off as brusque and all business, while the rest of the cast slowly develop their roles. (The cute hipster art director Sarah has a crush on Forest, one of the site's editors, at least two of the characters are in the process of coming out of the closet, the site's editor in chief, Emily, happens to be Mr. Huh's wife, and Will stands in as the "I know this is all ridiculous" Jim-like persona, clocking the highest number of  eye-rolls to the camera.)
"The show is not about me, it's about the company," Mr. Huh said. "Our goal is to make people laugh at least five minutes of every day." But that's what the website does. Why gamble with that comedic reputation by showing how the LOLCat sausage gets made? Mr. Huh, who plays many roles, answered, not as a Bravolebrity or a meme-maker, but as an idealistic tech CEO.
"The answer is obvious," he said. "We wanted to be a transparent company."
LOLWork airs Wednesday nights on Bravo at 11 p.m. EST