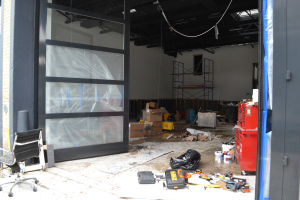 The relief fund set up by the Art Dealers Association of America (ADAA) to help damaged Chelsea galleries in the wake of Hurricane Sandy has grown to "well over $500,000," according to an ADAA spokesperson. The list of donors includes some 50 New York arts institutions, including galleries like David Zwirner and Metro Pictures and organizations like Art.sy and ArtSpace, as well as Art & Auction, Artforum and other publications.
The money is distributed in $10,000 grants through a rolling application process. Before the holiday, 18 grants had been processed already, and a new batch will be ready by the end of this week. There's a quick turnaround, according to the ADAA, and money is being received within three to four days after applications have been approved. The application itself, available at the ADAA website, asks galleries to specify their losses, the number of people they employ, any outstanding loans, whether they have applied for FEMA assistance and how long their business has been interrupted by the storm, in order to determine to what extent they will receive help from the relief fund.
Art insurer AXA estimated the damage in Chelsea at around $40 million.