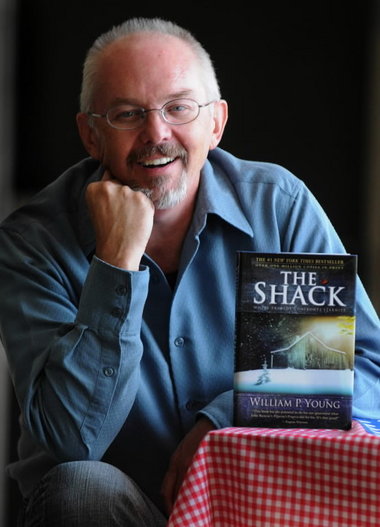 The popular Christian author William Paul Young, who renders his first name "Wm." and goes by "Paul," gave the Transom a hug. He was on a short break from a series of interviews on Tuesday with the likes of Good Day Alabama and the Fargo evening news; he was sitting in a director's chair with a blown-up image of his book's cover behind him.
Mr. Young's new book is titled Cross Roads and is published by FaithWords, a division of Hachette Book Group. He's promoting it with a weeks-long tour, as well as events like an interview with Michael Flaherty, the president of Christian entertainment company Walden Media. (Mr. Young estimated that the web-stream of that event would garner 10 to 15 million viewers, and said not entirely humbly that he never received questions in advance of public appearances.) That company produced the film adaptation of The Chronicles of Narnia, by Mr. Young's favorite author, C.S. Lewis. "I have no grandiose ideas about carrying anybody's legacy forward," said Mr. Young. "I have six kids. I'm trying to create a legacy inside those relationships." He acknowledged Lewis as well as Kierkegaard and Nietzsche as influences.
Mr. Young's work may be the most popular Kierkegaard-influenced oeuvre of all time; The Shack, his first book, ended up with 18 million copies in print (it's just above Peyton Place, and significantly above The Cat in the Hat, on Wikipedia's anecdotal "best-selling books of all time" list). The book, a story of a man whose daughter is murdered by a serial killer and who then goes on a journey of self-discovery, meeting various manifestations of God, began life as something even less than a self-published text. It had been Xeroxed for his family as a Christmas gift, coming to publication and great success only through word of mouth. "You do it for friends and family—they'll love you anyway," he said. "That's low-risk."
After that book's success, Mr. Young bought his family a house (he lives in northern Oregon) but kept his 2008 Honda Accord. "All the things that matter to me were in place before I wrote The Shack. That hasn't changed." And he had little critical to say about New York, despite the fact that his new book's protagonist is an arrogant go-getter of the sort familiar to most city denizens. (Though Mr. Young rather gilds the lily: the protagonist is seen in the book's opening guzzling scotch and looking at whiteboards.) "City and country—each has its own beauty and its own pain," he said. "Some of the smallness of small towns—cattiness, everybody knowing everybody's business—that can be challenging. And cities can be challenging, because no one can connect except electronically."
A studio where an author is filming interviews over the course of a day is a lonely place. After we left, Mr. Young went back to speaking to local news anchors for a series of taped pieces, staring into a monitor that showed his reflection back to him.
Did Mr. Young consider himself a missionary? the Transom had asked. ("There is only … hear me carefully: There is only one God," says Jesus, a character in Cross Roads who helps the tough urbanite open up his heart.) He did not, no more than he thought he was the next Lewis. "I think good creative writing opens up space for people to come into. Let God reach out and touch the human soul. That's not my job. I get to be present and create as much space as I can … That frees me up just to be creative in the way I want to be."