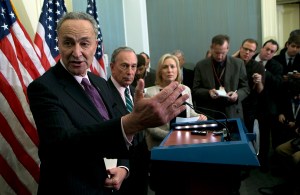 Most of the discussion surrounding the request New York is making for billions in Sandy recovery aid has focused on repairing the damage caused by the storm. However, at yesterday's press conference where he discussed the push for federal aid, Senator Chuck Schumer said the efforts of elected officials will also include securing funds for storm protection projects.
"There is money for mitigation," Mr. Schumer said in response to a question from Politicker. "I don't know New Jersey's division yet, but New York's is 32 billion for the actual damage that occurred, for recovery from that, and 9 billion for mitigation."
Along with the request for money for new projects, Mr. Schumer said he and Senator Kirsten Gillibrand are also working to ensure Army Corps of Engineers projects approved prior to the storm are completed.
"Senator Gillibrand and I have already submitted a billion dollars, and we've given that to the administration, of seven Army Corps projects that were actually approved and have been authorized to protect our beaches and our low-lying water areas," he explained. "One example, the City of Long Beach in 2005 asked for–the Army Corps was ready to build high dunes. A small group of homeowners in Long Beach at that time objected and the city said, 'Don't do it.' Now, of course, the city manager has called me and said, 'I want it right away.'"
Though Mr. Schumer forecast the push for post-Sandy federal aid will be a "hard fight," he said the Army Corps projects that have previously been approved should be easier to find funding for. He also said he expects the Army Corps of Engineers to undertake other, new storm protection projects.
"The good news is, on those projects we don't have to go through a whole study and authorization. We have seven of those that affect Staten Island, the Rockaways and Long Island," said Mr. Schumer. "But there'll be lots of other Army Corps projects that deal with mitigation. There will also be other types of mitigation that make our buildings stronger, make our tunnels more protected, things like that."