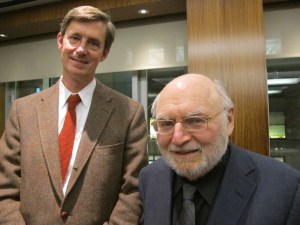 If you came to New York expecting book parties to be tame, dignified affairs held in dusty university clubs, where distinguished older gentlemen talk about editors of yore over cocktails and lamb chops, well, your expectations would have been met Monday night at the Columbia University Press launch of The Art of Making Magazines.
The anthology was culled from 10-plus years of lectures by notable magazine editors by Victor Navasky, editor emeritus of The Nation and the director of Columbia's Graduate School of Journalism magazine program, and Evan Cornog, the dean of Hofstra University's School of Communications.
Mr. Cornog spoke with enthusiasm to a small cluster about magazines' digital future. "Yes, but is the advertising money there?" asked one pragmatic author. Mr. Cornog agreed that getting people to pay for content may pose a challenge.
To be sure, it is an odd time to celebrate the magazine business. Newsweek's print demise was on many a mind, and tongue. But if there is still a stodgy glamor to be found, it was on display at the Columbia University Club. And, according to departing Columbia J-School dean Nicholas Lemann, rumors of the magazine industry's demise have been greatly exaggerated, at least if you ask young journalists.
"It always surprises people to hear that our most popular concentration for years has been magazines," Mr. Lemann told the crowd, before asking if anyone had seen The Devil Wears Prada.
The reference got a hearty laugh.
He went on to explain, however, that while his 20-something sons and their friends were inspired by Wall Street's Gordon Gekko, apparently The Devil Wears Prada is Wall Street for aspiring female journalists. "[I]n our heavily female school, many of our students watch The Devil Wears Prada and say 'I want in.' And so they come to us, and sit at Victor's feet and learn about magazines," Mr. Lemann said. "And who knows, maybe one of them will be either the editor of The Nation or the editor of Vogue."
Mr. Navasky expressed similar surprise that long-form print is still the dream of so many young journalists.
Dreams die hard, it seems.