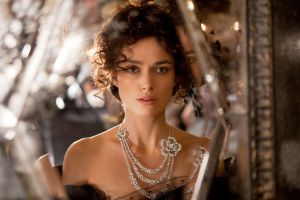 It's once more around the block for Anna Karenina, Leo Tolstoy's sweeping, complex saga about an adulterous heroine who loved too much and too well, ruining her reputation and wrecking her marriage while men winked and women wept (yes, they loved soap operas even on the Russian steppes). The story of Anna, the beautiful, unhappily married and doomed aristocrat who spins a tangled web of deceit and betrayal so tragic that it eventually drives her into the path of an oncoming train, has been filmed at least a dozen times, most memorably with Greta Garbo and Vivien Leigh. Keira Knightley is hardly in the same league with those icons, but she makes a decorative centerpiece in this troubled remake by her mentor, director Joe Wright, who guided her in two previous films, Pride and Prejudice and Atonement. She's not quite up to the material this time. Her eyes are less cloudy and more like candles on a cake, but behind the reflection of their glow, there's nobody home when the lights go out.
Joe Wright's ornate visuals are easy on the eye, but the wooden, mannered screenplay by verbose playwright Tom Stoppard is jarringly at odds with the neo-realism Tolstoy was aiming for in his novel, a sensation from the day it was published in 1877. His tortured themes of passion, addiction and suicide are now upstaged by lavish sets, costume changes and chandeliers that would be more at home in The Forsyte Saga. Even worse, the stylistic conceit of the Wright-Stoppard team is to set the sprawling action of the entire movie on the proscenium stage of an elegant theater, robbing it of all spontaneity and sense of discovery. This audacious sense of artificial staging and calculated theatricality is intriguing for about 10 minutes—what better metaphor for a decadent and disintegrating society than a theater?—but when the plot moves from St. Petersburg to Moscow, or from lush dinner parties to railroad cars running on miniature tracks and Russian wheat fields, you realize that a stage-bound production could never work, and wonder why they ever bothered in the first place. Unfortunately, the high-concept approach more closely resembles one of those phony, hysterical, over-produced bores by Baz Luhrmann than anything by Tolstoy. Who, in his right mind, would set out to imitate Baz Luhrmann?
You probably know all you need to know about the plot. In 1874 Imperialist Russia, Anna, the virtuous but flighty wife of dull, pinch-faced bureaucrat Alexei Karenin (surprisingly well played against type by Jude Law) has been a devoted wife and mother for nine years. Weary of the pretense of keeping up appearances in a stagnant marriage, she clings to the notion of romantic love as the final illusion of Old Russia, disgracing her family and risking her wealth, security and respectability to throw herself into a reckless affair with Count Vronsky, a dashing but shallow cavalry officer (baby-faced Aaron Taylor-Johnson). The infatuation seems foolish from the start, but he awakens her long-suppressed sexuality in ways that persuade an otherwise responsible woman to break her marriage vows and sacrifice her propriety, her values and her morals to become the mistress of a foppish, prissy-mouthed dandy, going so far as to give birth to his baby. The price she pays is very high indeed.
The cast is good (especially Mr. Law) and there's plenty to look at, from lavish balls to windmills in the snow. But it's a blank and tedious film, like a golf ball displayed in the Hermitage museum in the jeweled box of a Fabergé egg. For all of its palaver about love, it's strangely reluctant to show much of a pulse. Instead of walls, windows, curtains and the Russian people, you get painted flats and dress extras. When Anna moves into a clinch, the stage lights dim behind her and footlights brighten her profile, exaggerating every emotion. The movie seems even less palatable when it ditches the original intentions of Tolstoy himself. He was a spiritual anarchist, the son of land-owning nobility, who eventually denounced his privileged background and became a Christian moralist. His harsh view of Anna was a deliberate offshoot of his ascetic views. He hated the artifice of 19th-century Russian society, believed in marriage and family (he fathered 13 children) and rejected all material wealth, including his own earnings and copyrights. He preferred the sweat of hard labor in the fields of his country estate to the peccadillos of high society. I give credit to Tom Stoppard for contrasting the fate of Anna, trapped by the superficiality of the upper classes, with the parallel story of a farmer named Levin (Domhnall Gleeson) who seeks a purer life in rural scenes where he toils in the fields, shoulder to shoulder with his serfs.
Classic literary giants as diverse as Faulkner, Proust, Dostoyevsky, Chekhov, Mann and Woolf have all openly declared Tolstoy a genius. James Joyce once wrote that he was "never dull, never stupid, never tired, pedantic or theatrical." He might change his mind if he saw Anna Karenina.
ANNA KARENINA
Running Time 130 minutes
Written by Tom Stoppard
(screenplay) and Leo Tolstoy (novel)
Directed by Joe Wright
Starring Keira Knightley, Jude Law
and Aaron Taylor-Johnson
2/4
rreed@observer.com