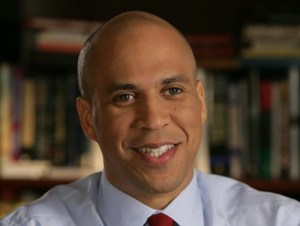 Newark Mayor Cory Booker has earned the nickname "supermayor" for rushing into a burning building to save a woman from a fire last April and regularly using Twitter to personally solve the problems of his constituents. In the wake of Hurricane Sandy, Mayor Booker is living up to this reputation by allowing at least one person affected from the storm to take refuge in his home and enjoy his power outlets and "working DVD player."
This morning, a Twitter user with the handle @my_serenelove who identifies herself as a "Newark native" on the site sent a message to Mayor Booker complaining about her situation in the aftermath of the storm.
"I live around the corner from u on homestead. Why don't we have our power back. Half of my block does," she wrote.
Mayor Booker replied by inviting her over to his house to use the electricity, "relax" and watch DVD's.
"There is someone at my house now (Eric). I've got space u can relax in, charge devices & even a working DVD player. Come by," he wrote.
A few hours later, @my_serenelove tweeted that she was "at @CoryBooker house. Charging everything up."
"Thx," she added.
Update (2:44 p.m.): Apparently, @my_serenelove isn't the only Sandy refugee crashing at Mayor Booker's house. He later tweeted that he was "having lunch delivered for the 12 or so of you hanging at my place."
Perhaps Mayor Bloomberg will consider letting people who are still without power in Lower Manhattan come crash at his Upper East Side townhouse.
As of this writing, neither Mayor Booker or @my_serenelove has responded to a request for comment on this story.