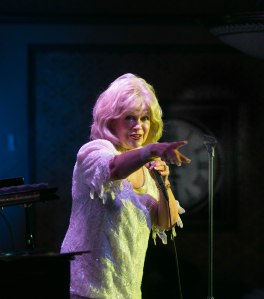 Despite the spate of inclement weather, New York lit up like a shooting star last week in the presence of Sue Raney's luminous cabaret show at Feinstein's at Loews Regency. A singing legend in the circles where serious jazz aficionados gather, her radiance, taste and incredible musical savvy have been missing from the New York scene for three decades. She more than made up for the absence with vocal artistry that can only be described as out of this world.
Pensive and informed by beauty, intelligence and charm, she is the whole package—brainy, talented and loaded with personality, the very image of class. A wish-list trio led by ace pianist Alan Broadbent, the dream accompanist of every aspiring singer, provided a hammock of chords for Ms. Raney to swing in on ballads and tunes hand-picked to dazzle. From Peggy Lee's "I Love Being Here With You" to a cornucopia of selections featured in their recent CD A Tribute to Doris Day: Heart's Desire, the Sue Raney-Alan Broadbent dream team covered familiar bases where groovy singers have gone before, but every arrangement sounded brand-new. I never thought I could bear to listen to "Que Sera Sera" again, but the poignant glimpse into the heart of a woman looking back on the days of her youth made this tired old Doris Day chestnut sound like I was experiencing it for the first time. Hoagy Carmichael's "The Nearness of You" and Dave Frishberg's winsome ballad "Listen Here" lulled her listeners into a state of bliss more calming than any Valium. On "Have I Stayed Too Long at the Fair," a jazz classic from her first Capitol album with Nelson Riddle, recorded when she was 17, she was in better vocal control than ever, full of intense feelings that were never sabotaged by craft.
Though not a bombastic performer, Ms. Raney's singing has a pulse and a rhythmic subtext that is thrilling. She feels it as she goes along, like a method actor. A romantic instead of an athlete, she still has the power to reach Eydie Gormé altitudes. Not a technical whiz like Mel Tormé or Ella Fitzgerald, she can still scat with the best, and the joy she exudes in a spotlight is contagious. I suffer through so much mediocrity in New York cabarets that a breath of oxygen as pure as Sue Raney is an indescribable reward that is inspiring. She's in a class by herself. I hope she comes back to town soon—and often.
rreed@observer.com