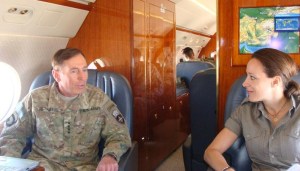 Slate's Fred Kaplan reports that David Petraeus resigned as Director of the Central Intelligence Agency after he had an affair with one of his biographers, author Paula Broadwell. Ms. Broadwell co-authored a glowing portrait of Mr. Petraeus titled, All In: The Education of General David Petraeus.
According to the biography of Ms. Broadwell on the website of her book, she is a "a research associate at Harvard University's Center for Public Leadership and a PhD candidate in the Department of War Studies at King's College London" who spent most of a year in Afghanistan with Mr. Petraeus working on the book. Her site, which was deleted sometime this evening, described the book as having built on her two-year doctoral dissertation, which was "a study in transformational leadership and organizational innovation influenced by U.S. Army General David Petraeus."
In addition to her studies of Mr. Petraeus, the book site describes Ms. Broadwell as having "graduated with academic and leadership honors from the United States Military Academy at West Point." It also notes her devotion to physical fitness and outdoor activities saying she, "graduated at the top of her class in physical fitness" after running on the prestigious military academy's outdoor, indoor and cross country track teams.
Ms. Broadwell's book site also identifies her as being married to Scott Broadwell, an interventional radiologist with whom she has two children.
"They love to run, ski, and surf together," the site says of the couple.
In a reading at a Washington, D.C. bookstore in February, Ms. Broadwell described how she met Mr. Petraeus while a graduate student at Harvard:
"He came to Harvard University where I was a graduate student and wanted to speak with students about the merits of [the] counter-insurgency approach to fighting the Iraq War, which we were losing at the time….I went up to him and said I'm writing my thesis on negotiating with terrorists and I think it could help your team win and you should really read it and he was kind of enough to indulge me and take the paper and give me his business card. We kept in touch via email for a couple years, and I was still a graduate student. Two years later, I reached out to him if he would speak to students at Harvard…He agreed to do a video teleconference from Baghdad. I asked him if I could use him as a case study in my doctoral dissertation, and he agreed."
At that same interview, Ms. Broadwell said that, while writing her book, "I got to know his family." Mr. Petraeus' wife, Holly, became the head of the Consumer Financial Protection Bureau's Office of Servicemember Affairs. In that capacity she works to protect members of the military and their families from predatory loans and financial scams. They have two children together, Stephen and Anne, who writes a food blog where she often discusses her family.
In a February, 2012 video interview with Arthur Kade [see below], Ms. Broadwell went into greater detail about her military background. She also described the process of writing her biography of Mr. Petraeus, which involved extensive interviews, phone conversations and emails.
"It's not a hagiography, I'm not in love with David Petraeus, but I think he does present a terrific role model for young people, for executives, for men and women. No matter what, there's a great role model there," Ms. Broadwell said in her interview with Mr. Kade.
Though Ms. Broadwell refuted the notion her book was overly flattering, it certainly presented a complimentary picture of Mr. Petraeus. Daily Show host Jon Stewart noted this fact when Ms. Broadwell appeared on his program in January.
"The most controversial thing is–I would say that the real controversy here is, is he awesome or incredibly awesome? It's very–it's a nice portrait," Mr. Stewart quipped.
"I have a detail I can share with you, he can turn water into bottled water," Ms. Broadwell responded.
In that same interview, the television host asked Ms. Broadwell if Mr. Petraeus, who had been rumors as a potential running mate for Mitt Romney, would ever consider running for president himself.
"My husband wants me to say he is, cause it will sell more books," Ms. Broadwell said. "I'm sorry honey, I couldn't do it."
The Associated Press reported Friday evening that the alleged affair between Ms. Broadwell and Mr. Petraeus came to light during an FBI investigation into her knowledge of the former general's email correspondence. The Observer has called phone numbers listed to the Broadwells and Ms. Broadwell's co-author Vernon Loeb, but, as of this writing, we have yet to receive a response.
[youtube http://www.youtube.com/watch?v=OXcDlk_RijQ&w=560&h=315]
Additional reporting by Colin Campbell