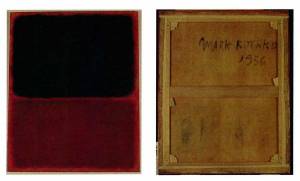 Jack Flam, the president of the Dedalus Foundation, which oversees that estate of Robert Motherwell, was listed in court papers by Knoedler Gallery as a Rothko "expert," corroborating the authenticity of an allegedly fake Mark Rothko painting. Mr. Flam has now denied that he ever even saw the painting in question.
The story comes from The Art Newspaper:
"Flam is one of ten experts listed in an attachment to a letter dated 10 December 2004 and sent from Freedman to the De Soles' daughter under the heading 'The Painting Has Been Viewed by the Following Individuals with Special Expertise on the Work of Mark Rothko.' The letter was written in response to the collectors' request for assurances of authenticity and provenance[.]"
At an art-law conference at NYU last week, Mr. Flam responded:
"I'm not a Rothko expert, and I don't remember seeing the painting…If I did see it, it was probably behind someone's desk."
Knoedler, which is now closed, is at the center of a court case about conspiring in the sale of forged art works.