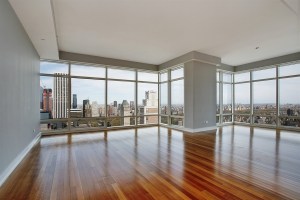 Deutsche Bank CEO Anshu Jain has played a central role in building the bank's investment banking business over the years, the arm that accounts for the lion's share of Deutsche's profits. So it should come as no surprise that Mr. Jain, who took over as Co-CEO of the bank with Jürgen Fitschen in May, decided to plunk some of his personal funds into the New York real estate market.
While $7.2 million—the amount Mr. Jain paid for the two-bedroom, 2.5-bath condo at 151 East 58th Street— might seem like a fortune to most of us, it's pretty much a pittance for the bank boss. And we're pretty sure it's a pied-a-terre as the Indian-born British citizen keeps a primary residence in London with his family and owns another place in Frankfurt. 
Mr. Jain couldn't have picked a better location for his New York pad; the condo's located at One Beacon Court, the same building where Bloomberg keeps its offices. In the new place, Mr. Jain can count on the hum of financial markets to lull him to sleep at night in the huge master bedroom with three (!) closets.
Located on the 33rd floor, the apartment is an excellent spot for a master of the universe to survey the city when he's in town. It has views stretching from the Hudson to the East River, according to the listing, held by Corcoran broker Barbara Russo. And the finishes, handpicked by designer Jacques Grange, aren't bad either.
Nor did Mr. Jain buy without negotiating a bargain: seller Francois Khawam, who bought the apartment for $4.42 million in 2005, tried to make a big profit when he listed the place for $8.4 million in April. Mr. Jain waited until the price dropped to $7.69 million before making his winning offer in September.
kvelsey@observer.com