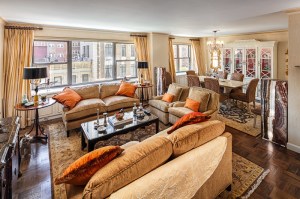 Theodore and Themis Dimon may have lived in Queens when their son Jamie was a lad, but they clearly prefer Park Avenue. The couple moved to the Upper East Side street when their twins were young, giving their son Jamie a taste for the finer things in life that he would never recover from.
Now the Dimons have further pledged their allegiance to the snooty strip with the purchase of a two-bedroom, 2.5-bath co-op  at 650 Park Avenue. Theodore, a stockbroker who was hired on in 2009 to work under his famous son at JP Morgan Chase, even works on the same stretch to the south, at 277 Park Avenue. (The elder Dimon, a former executive vice president at American Express, gave his son a leg up at the beginning of his career by bringing him to the attention of Sandy Weill.)
Still, by Park Avenue standards the place is fairly modest; the Dimons paid $2.55 million, according to city records. It also looks as though the Dimons may not have as sharp financial acumen as their son. Although they got seller Gloria Glatt to agree to slight discount—she was asking $2.8 million—she paid a mere $1.72 million in July 2011. The apartment looks nice, but it hardly seems like "the rare opportunity" that the listing, held by Brown Harris Stevens broker Emma Zilberman, claims it is.
The apartment did have a renovation in the last year and boasts, among other things, TVs in all the bathrooms (who knew that was something to brag about), as well as parquet floors, crown moldings, well-proportioned rooms and good light.
kvelsey@observer.com