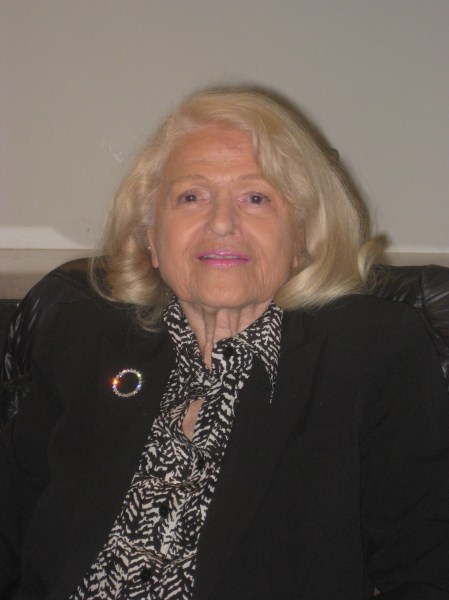 Edie Windsor is used to waiting. Ms. Windsor was engaged for 40 years before her 2007 Canadian wedding to Thea Spyer. The pair waited 30 years to apply to be domestic partners, under a New York City law introduced in the 1990s. Now Ms. Windsor, 83, is waiting for the Supreme Court to decide whether to hear her challenge to the Defense of Marriage Act, with a decision expected Monday morning.
Ms. Windsor is requesting a refund of the $363,053 in estate taxes that she paid to the IRS after being left all of Ms. Spyer's property when she died in 2009. Had the pair been classified as married, Ms. Windsor would have been able to inherit the property shielded from taxes. Instead she was classified as if they had no relation to each other.
Ms. Windsor's case has the potential to help strike down the definition of marriage in the 1996 Defense of Marriage Act, where it is defined as between a man and a woman. If she wins, the federal government will recognize the marriages of same sex couples in states where gay marriage is already legal, resolving a currently conflicting definition between the federal and state governments. The district court decision in Hollingsworth v. Perry, the case challenging California's Proposition 8 that prohibited gay marriage, declared a broader right to gay marriage, but SCOTUS is viewed as more likely to take Windsor.
"I've been asked, how would I feel if we win?" said Windsor. "What would that mean? It would mean everything. The beginning of the end of the stigma."
In October the federal appeals court upheld the lower court's decision that the law violated the Constitution's equal protection clause, despite an appeal by a group of U.S. House of Representatives conservatives who took up the case after the Department of Justice stopped defending DOMA in 2011.
Because of her age, Ms. Windsor and her legal team had requested the Supreme Court hear the case even before they won in appeals court.
Roberta Kaplan, a partner at Paul Weiss, has been working on the case pro bono along with the American Civil Liberties Union. Ms. Kaplan has pressed to expedite the process due to her client's age, saying that "she wants to be alive when she wins."
"I have a lousy heart," said Ms. Windsor, who has suffered from a series of heart attacks, most recently this spring while walking close to her Greenwich Village home. She also survived emergency open-heart surgery in 1996.
The appeals court issued its decision in three weeks, but the Supreme Court has delayed deciding whether to take any gay marriage case until today's conference, after the election. It is considering a group of gay marriage cases, including California's Proposition 8 case.
Ms. Kaplan thinks that the money involved makes the case a good one for the Court. "I think every American gets in their gut what it means to pay a huge tax bill that you wouldn't have had to pay if it weren't for this discrimination," she said, adding that the facts of Ms. Windsor's life, being part of a decades-long loving relationship through intolerance and Ms. Spyer's 30-year battle with multiple sclerosis, create a compelling story.
First meeting and quickly falling in love in New York City in 1963, Ms. Windsor and Ms. Spyer became engaged in 1967. The pair spent their time dancing and traveling to places like Africa while splitting time between their Greenwich Village apartment and a home in the Hamptons, the source of their estate taxes.
Though Ms. Windsor had dabbled in the nascent lesbian activism movement after she left IBM in the 1970s, her "real coming out" came after The New York Times announcement of her wedding on May 27, 2007, when she and Ms. Spyer heard received good wishes from one-time bosses and distant childhood neighbors.
The 2009 documentary Edie & Thea: A Very Long Engagement follows the couple's relationship up through their Canadian wedding. The film shows Ms. Windsor and Ms. Spyer looking at old personal photographs and sharing their memories. Though she may be blurry on dates, she remembers certain moments, especially those of Ms. Spyer, with Kodachrome clarity.
Ms. Windsor said the court battle "keeps Thea alive for me, very alive."
After her win in the district court she had two impulses: "I wanted to call Thea, and I wanted to call my mother."
Even as her health was declining, Ms. Spyer was a great supporter of Ms. Windsor's efforts on behalf of same-sex marriage. "She loved it," Ms. Windsor said of her late wife. "Even as she was becoming more crippled and less eager to be out there, she loved it when I was out there."
The case has made Ms. Windsor a sort of celebrity status in gay circles, said Ms. Kaplan, who walked alongside her in last June's gay pride parade. "It was like walking with some combination of Mick Jagger and a great politician. It was unbelievable. She'd be walking down the side of the street and people were literally coming out to shake her hand, to kiss her," Ms. Kaplan said.
For her part, Ms. Windsor seems to take her fame in stride: "I just happen to be an out lesbian who is suing the United States government."