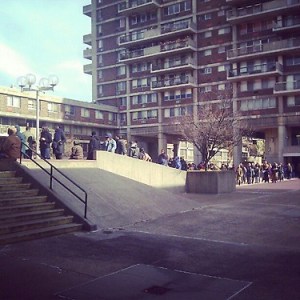 "We have some other type of crisis here, partially organized by Hurricane Sandy, partially organized by the Board of Elections," Assemblyman Alec Brook-Krasny told Politicker this morning, ticking off poll sites that did not receive machines until 8:04 a.m. and 7:30 a.m. respectively, over an hour after they were scheduled to open. "My question is, if they knew, if the Board of Elections knew yesterday this was the poll site that would be assigned today, were they sleeping this morning? It disenfranchises many people."
We asked if there might be a possibility of a re-do election.
"That is a possibility, I think," he answered, noting all of the Hurricane Sandy-induced chaos was in the Democratic parts of his district. "I have two parts of the district. Bay Ridge and Dyker Heights, which is conservative, and Coney Island and Sea Gate, which is much more liberal, and I'm a Democrat….This is all becoming totally ridiculous. This is not about me, of course. This is about 40,000 voters losing the right to vote."
But the problems extend far beyond Hurricane Sandy's path of devastation. Wendy Long, the Republican candidate for U.S. Senate, sent out a press release describing her woes while voting in Manhattan.
"This morning when I went to vote, a poll worker who was at the scanner, studied my private ballot and proceeded to tell me that it was rejected because I did not 'fill in every space,'" she said in a statement. "She then proceeded to indicate that I should mark the Democratic line all the way down. The poll worker said, 'you have to fill in all of THESE, all the way down," indicating the whole line at the far left of the ballot, saying 'you can't leave any blank.'"
Additionally, Councilman Jumaane Williams, who represents a neighborhood in Central Brooklyn, described even more chaos on his Twitter page:
Extremely concerned @boenyc at least 3 polls didn't open time. Got word another has machines not working. Can't imagine hard hit areas!

— Jumaane D. Williams (@JumaaneWilliams) November 6, 2012
Never received so many problems so early from so many places. PS 152 88 year old just left w/voting. @boenyc

— Jumaane D. Williams (@JumaaneWilliams) November 6, 2012
I overheard a #pollworker tell #voters to vote all #Democrat or all #Republican! Sigghhh… @boenyc. Training is also important.

— Jumaane D. Williams (@JumaaneWilliams) November 6, 2012
Help/media needed @ny1 @ny1desk @courtneycgross @boenyc massive confusion at Vanderveer Methodist Glenwood/Nostrand Ave twitter.com/JumaaneWilliam…

— Jumaane D. Williams (@JumaaneWilliams) November 6, 2012
From anecdotes and reports elsewhere across the city:
No working scanners here at Penn South. RT @rueby: RT @michaelpaulson: We are hearing multiple reports of failed ballot scanners around NYC.

— Nick Confessore (@nickconfessore) November 6, 2012
MS 51 poll-site is worst we've ever seen. Just sent @commoncauseny & NYPD 78th Pct over to try to maintain calm and take complaints @boenyc

— Brad Lander (@bradlander) November 6, 2012
2 out of 3 scanners jammed. No one knew how to fix them. 2 voters walked in and knew what to do. Scanners fixed. — Justin Brannan (@JustinBrannan) November 6, 2012
Confusion at a Park Slope polling site via @erik_engquist mycrains.crainsnewyork.com/blogs/insider/… — Andrew J. Hawkins (@andyjayhawk) November 6, 2012
Friend in Fort Greene says organizers outside polling place were insistent he had to vote straight R or D, argument ensued — Reid Pillifant (@reidpillifant) November 6, 2012
In line an hour and line has stopped. No one knows why. Freezing. #nyvote

— Andrea Bernstein (@AndreaWNYC) November 6, 2012
Super poll site in rockaway pk is functioning albeit with challenges generators now have gas so there is more light but no heat in tents

— Zack Fink (@ZackFinkNews) November 6, 2012
No working scanners here at Penn South. RT @rueby: RT @michaelpaulson: We are hearing multiple reports of failed ballot scanners around NYC.

— Nick Confessore (@nickconfessore) November 6, 2012
There are 300 or so on line at Friends of Crown Hts daycare center. 2 of 3 scanners broken #ny1votes yfrog.com/hwj0kofj

— Errol Louis (@errollouis) November 6, 2012
Broken machines, relocated voters cause huge lines at polling stations ow.ly/f46Td @dnainfo #Election2012

— Alan Neuhauser (@alneuhauser) November 6, 2012
line at my polling location [baruch college] goes through a lobby & weaves down four flights of stairs. #whoa #ny1votes

— Rosemary Shultz (@rshultz) November 6, 2012
The voting machines on 151st Amsterdam and St. Nicholas are jammed. We have to vote on paper ballots. Hundreds of people are waiting.

— Jenisha Watts (@iamjournalism) November 6, 2012
People are leaving the polls in Harlem.

— Jenisha Watts (@iamjournalism) November 6, 2012
We have recruited & trained 36,000 poll workers. We appreciate your patience in these challenging circumstances #nycvotes #ny1votes #nyvotes

— NYCBoardOfElections (@BOENYC) November 6, 2012