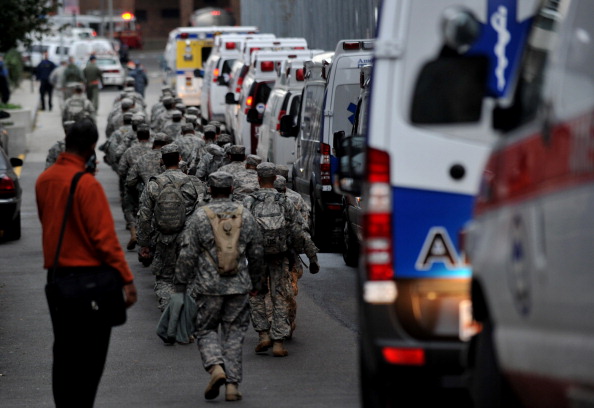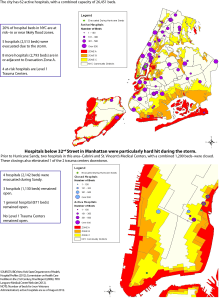 As if Sandy hadn't made enough of a mess of the New York City, and particularly a number of its hospitals, a new report from the Independent Budget Office has found that 20 percent of hospital beds here are at risk of further destruction, being in or near potential flood zones. Of the city's 62 hospitals, which have a combined capacity of 26,451 beds, five were evacuated during Superstorm Sandy, displacing more than 2,500 patients as a result.
With another eight hospitals in or adjacent to evacuation zone A, the study is a worrying indictment of how New York's indisposed might be affected by future natural disasters if flooding as severe as that during Sandy is to happen again—as many officials, including the mayor and the governor, believe it probably will.
Four of the at-risk hospitals are Level 1 trauma centers, which provide the highest possible level of surgical care to patients. With Stanford University Medical Center reporting that Level 1 hospitals increase the chance of patient survival by an estimated 20-25 percent, having so many in or near zone A certainly does not bode well for the city's health during a disaster.
Unsurprisingly, it was the hospitals below 32nd Street that were worst hit during the hurricane, with only one of the two downtown trauma centers remaining open. There were no Level 1 trauma centers open in Lower Manhattan after Sandy hit, leaving patients requiring emergency care to travel all the way uptown, to either New York Presbyterian/Weill Cornell Medical Center at East 68th Street or St. Luke's Roosevelt off Columbus Circle.
Just one general hospital and three other hospitals, with a total of 2,001 beds, stayed open downtown, compared to the 2,142 beds across four hospitals that were evacuated mid-storm. Outer borough hospitals, particularly those in Staten Island, the Rockaways and Coney Island were directly hit by the storm and remain at risk during future disasters.
It looks like it's time the hospital system received a full examination before the next storm hits and it suffers another major seizure.