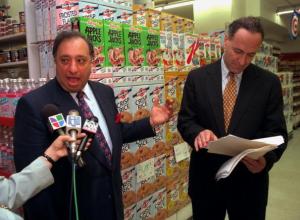 So, yeah, this happened. Thanks to Senator-elect Simcha Felder, if Republicans can win the canvass of the absentee and affidavit ballots in the Amedore-Tkaczyk race, they would then have a majority no matter what the Independent Democratic Conference does.
The response from the Senate Democrats: "The voters sent a clear message on election night that they want the Senate led by a Democratic Majority. We are confident that when the Senate convenes in January, there will be that Democratic Majority and we look forward to working with Governor Cuomo to achieve the progressive agenda he has laid out."
And from Republican Majority Leader Dean Skelos: "Mr. Felder has shared with me the issues that are most important to his constituents, including economic development and job creation, reducing taxes and providing financial relief for hardworking families.  Those have been our priorities in the past and will continue to be our priorities as we begin the next legislative session."
Bronx GOP Chair Jay Savino is definitely on board the Adolfo Carrión train. "I love the guy. I think he would make an excellent mayor," he said. "He is definitely the cream of the crop when it comes to announced candidates. I think he could be exactly what the city needs – a centrist or moderate candidate."
Helping Mr. Carrión's effort is none other than Brooklyn Republican Michael Allegretti, a former congressional candidate who lost a 2010 primary to Rep. Michael Grimm.
Supermarket mogul John Catsimatidis will soon start a campaign account for his own mayoral effort. As a side note, his musing on the presidential campaign might not have been entirely politically correct. "I don't know why it's happening, that people are voting on ethnic lines," he mused. "To have blacks voting 93% for Obama—to me, that seems a little bit racist." He might want to let the race stuff be.
Meanwhile, GOP Councilman Eric Ulrich expressed skepticism that Mr. Catsimatidis could, as he claimed, run this city with his left pinkie: "give me a break! this guy doesn't know his ass from his elbow, never mind his pinkie." It should be noted Mr. Catsimatidis is the favored candidate of the Queens GOP establishment, which has feuded heavily with Mr. Ulrich.
This is pretty cool.