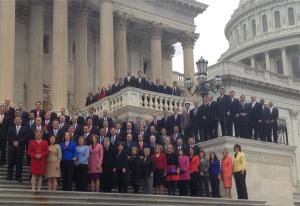 Unsurprising Headline of the Day: "Proposed City Council District Maps Protect Incumbents."
Scandal-scarred Assemblyman Vito Lopez, who's considering a City Council campaign, just took another lump. His longtime associate and former campaign treasurer, Christiana Fisher, plead guilty to falsifying documents. Ms. Fisher ran the influential Ridgewood Bushwick nonprofit organization, founded by Mr. Lopez.
More details on Ms. Fisher's plea can be found here and here.
Senate Democrats just don't seem to be able to catch a break. Senator Rubén Díaz is now among the crowd of the chamber's Democratic legislators who won't commit to caucusing with their party. It should be noted Mr. Díaz has been a staunch defender of Minority Leader John Sampson, so a defection would seem most likely if Mr. Sampson were replaced.
Former Comptroller Alan Hevesi, AKA "Hevey D" will be a free man after serving time in prison for corruption.
Governor Andrew Cuomo's director of operations Howard Glaser is kind of awesome:
Breaking: Joe Lhota announces Tunnel of Love to reopen at Rye Playland!(rush hour only)
— Howard Glaser (@hglaser1) November 15, 2012
Flash: Joe Lhota announces opening of 2nd Ave subway tunnel, in constructionsince 1929……um, wait.Recall tweet
— Howard Glaser (@hglaser1) November 15, 2012
Hot: Joe Lhota announces MTA will reopen Tunnel, infamous 90s nightclub w train tracks down the dance floor."JoLho" to DJ off peak.
— Howard Glaser (@hglaser1) November 15, 2012