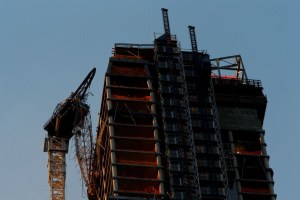 Last week was a difficult week one for many businesses that call the city home. Among them Extell, whose 26,000-pound crane boom dangled perilously over West 57th Street for days on end after it was torn asunder from the crane in the hurricane's high winds.
The construction disaster is, at the moment, being chalked up to a freak accident—although an extensive investigation is underway, The New York Times reports that the crane was inspected a week before the storm and found to be in good shape—it was a blow to Extell's ego.
Breathless speculation over which billionaires were buying One57's penthouses shifted to shock, fear and resentment as the world speculated instead on the whether or not the swaying boom would fall and if it did, whether it would result in a fiery explosion when it hit the gas main below. The block was evacuated for six days. And even now that the boom has been secured, it will be some time before construction can resume on the monument to global elite that One57 has become.
Today Extell sent out a thank you to all those who worked, quaked in fear or were otherwise inconvenienced by the nearly catastrophic crane collapse. Extell's full statement is below:
We want to acknowledge the many agencies and individuals – – from the Mayor's Office to the Office of Emergency Management, the Department of Buildings, the Department of Transportation, the New York Fire and Police Departments, Con Edison, OSHA, the Department of Environmental Protection, Lend Lease, Pinnacle Construction, Favelle Favco, JV Trucking and Rigging, Safeway/Atlantic, Stroh Engineering Services, Howard I. Shapiro & Associates, Domani Inspection Services, 20/20 Engineering and Inspections and countless others – – who worked tirelessly together during the past week under the most challenging conditions to secure the hurricane-damaged crane atop One57 and keep our community safe. We are grateful that 57th street and the surrounding areas are reopened and all of our neighbors were able to return safely. Thank you for your extraordinary efforts.
kvelsey@observer.com